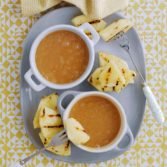 Salted Caramel Fondue & Grilled Pineapple
A delicious Salted Caramel Fondue & Grilled Pineapple recipe from the
Quick After Work
Cookbook.
Ingredients
Pineapple 1 medium
White chocolate chips 75g (3oz)
Salted caramel sauce 75g (3oz)
Double cream 4 tbsp
Sunflower oil 1 tsp
Instructions
1
Trim the top and bottom away from the pineapple and slice off the skin. Cut the pineapple in half lengthways then cut each half into six thick slices. Remove the core if it is tough. Set aside.
2
Put the chocolate chips, caramel sauce and cream in a small saucepan and heat very gently, stirring until the chocolate has melted and everything is well blended. Cover and keep warm over a low heat.
3
Heat a non-stick griddle pan until hot. Brush with a little oil and arrange half the pineapple slices on the griddle. Cook for 2–3 minutes on each side until lightly caramelised. Remove from the griddle and keep warm while you cook the other batch.
4
Drain the pineapple and pile onto a warmed serving plate. Keep the fondue in the saucepan and serve as a dip, or pour into small dishes and serve as a dipping sauce.
Emily Davenport