Gardening for colour all year round
The garden is a naturally colourful place – green grass, brown earth, painted fences and sheds. But it's the plants and foliage that provide that added zing; gardening for colour is all about creative planning and judicious planting, to provide that zing all year round.
In poet Thomas Edward Brown's estimation, 'a garden is a lovesome thing' and so it is, and it can be an even lovelier place if you think about what colours you want to see at different times of year. Haphazard planting has a lot going for it because it's easy and can result in the garden looking beautifully chaotic for part of the year, although it can look a bit dull for the rest of the time.
However, much of the pleasure in having a garden lies in deciding how you want it to look, and then watching your masterplan come to life. No need to stick rigidly to the rules of colour theory; taking note of the general ideas can be enough, and experimenting is part of the fun in gardening. It's your garden, after all. You can have a glorious mass of different colours if you like – and, in nature, they never seem to clash – but knowing how to use colour effectively throughout the year can make a big difference.
Whether you want your patch to be bright and cheery or a haven of peace and tranquillity will influence your colour choices. The hot colours – red, orange, yellow – are exciting, stimulating and demand attention; the cool colours – green, blue, purple – are restful, calming and recede into the background. If various sections of the garden are to have different purposes, or moods, the transitions between them are important, too, requiring subtler shades and whites.
KEY EFFECTS
The colour value of the plants you are intending to grow is important, too, i.e. how bright, pale or dark the flowers and foliage are likely to be, bearing in mind this is likely to change during the year.
 A small area of light colour in a sea of much darker vegetation creates a powerful effect.
 Repetition is an old trick that helps to avoid the garden looking too much of a riot. If you love red, for example, have more than one area of it.
 Pale colours reflect light and brighten up a shady corner.
 Bright colours can look wonderful and vibrant in full sun, while pastel colours will look washed out.
 Cool and pale colours bring a sense of depth; bright colours appear to be closer. Planted at the end of a border, pale colours make it look longer while bright colours foreshorten it.
 Silvery grey foliage lightens the area and cools down any nearby hot colours.
GROWING PLANS
When choosing your plants, first and foremost, select those suited to the location and soil type of your garden, and plan to position them in the ideal spot for their individual requirements of light and shade. Otherwise, think about containers, not too big so you have the option of moving them. If you are experimenting with colours, it may be that you will want to move some plants to try other combinations; but shrubs, once established, are mostly better not moved, so be sure to plant them where you want them to be.
Shrubs and perennials are lower maintenance than annuals, and since perennials benefit from being divided every few years, they could be a good bet, augmented by bulbs and, in summer, by annuals. These are often flamboyantly colourful. Remember to deadhead to prolong flowering. Some perennials give very good value, such as Phlomis russeliana, which flowers from late spring to early autumn and has attractive seedheads in winter, dianthus with its pink flowers and silver-grey foliage, and penstemon, which flowers to first frosts.
Also, when planning a colourful border or bed, remember to choose plants that will flower at the same time in order to achieve the desired effect. As well as colour and flowering season, think about height and contrasts in shape. Tall, upright plants, such as irises, daylilies and foxgloves, mix well with those that have wide flowerheads, such as sedum and yarrow, and spherical flowerheads, such as alliums.
Foliage is an integral part of any gardening display, whether used as background or as a focus in its own right. Shrubs such as cotinus and Fatsia japonica have eye-catchingly colourful foliage. Others, including berberis, viburnum and holly, have red or orange berries in autumn and flowers in spring.
Among all the possibilities, don't forget roses. A fragrant shrub, climber or floribunda that blooms continuously throughout the summer can do wonders for your garden.
YEAR-ROUND COLOUR
Spring brings sunny yellows and greens, fresh pinks and blues and white morphing into the vivid mix of summer and the warm burnt oranges and deep reds of autumn. Come winter, if you think of the garden as being a colour-free zone, think again. Flowers, berries and dramatic foliage can lift it from the gloom.
Spring
Shrubs: azaleas, California lilac, euphorbia, forsythia
Perennials: aubrieta, elephant's ears, forget-me-nots, polyanthus
Bulbs: crocuses, daffodils, grape hyacinths, tulips, anemones
Summer
Shrubs: rock roses, fuchsia, potentilla, mock orange, buddleia
Perennials: delphiniums, peonies, crocosmias, geraniums
Bulbs: alliums, irises, lilies, gladioli, begonias
Annuals: Busy Lizzies, lobelias, heliotropes, cornflowers, poppies, marigolds, tobacco plants
Autumn
Shrubs: spindle tree, rhus, plumbago, Japanese maple
Perennials: chrysanthemums, asters, Chinese lanterns, ligularia, Michaelmas daisies
Bulbs: colchicums, nerines
Winter
Shrubs: winter jasmine, mahonia, dogwood, daphne, skimmia, winter heath, clematis
Perennials: winter pansies, violas, hellebores, hepatica
Bulbs: snowdrops, aconites, cyclamen (grows from tubers)
You can have a glorious mass of different colours.
COLOUR SCHEMES
The colour wheel, a circle divided into six or twelve, shows how colours relate to each other and gives clues to the effects of juxtaposing them. For gardeners, the six-point colour wheel, made up of primary (red, yellow, blue) and secondary (orange, green, purple) colours, is a useful guide. It may be a good idea to make one as a reference (look it up online), and bear in mind the enormous variety of shades, tones and tints that exist in gardening and in nature, so the colours can be liberally interpreted.
ComplementaryAlso called opposing, these are colours that fall directly opposite each other on the colour wheel: red and green, yellow and purple, blue and orange. Positioned next to each other, they seem especially vibrant, so complementary colour schemes can be eye-catching and lively. A small area of hot complementaries balances a larger area of cool ones.
ContrastingColours equally spaced around the colour wheel are thought of as contrasting: orange, green, purple. They tend to go well grouped together – vibrant colours and green foliage.
HarmonisingAnalogous, or harmonising, colours are those that lie next to each other on the colour wheel, e.g. red and purple, yellow and orange, blue and green. Harmonious colour schemes can be elegant and serene, or, with hot colours, invigorating.
MonochromaticUsing just one colour can be very effective, but challenging. Some contrast is necessary or the result can seem somewhat bland, so use all the shades, tones and tints at your disposal, and plenty of interesting foliage.
Harmonious colour schemes can be elegant and serene.
GARDENS TO VISIT
If you're short of gardening ideas, or just want to soak up the atmosphere created by talented garden designers, why not take a trip to one of the hundreds of gardens around the country that are open to visitors? Many show the influence of Gertrude Jekyll (born in 1843), whom we have to thank for introducing colour-themed 'rooms' into the garden. Some are renowned for something extra special:
The white garden at Sissinghurst, Kent
Hidcote, in Gloucestershire, famed for its twin red borders
The winter gardens at Dunham Massey, Cheshire
Great Dixter in East Sussex, for unusual colour schemes
Beth Chatto Gardens, Essex, for garden artistry
The herbaceous border at Arley Hall, Cheshire
Harlow Carr, the RHS garden in Yorkshire, pushing the boundaries of design and planting styles
Barnsdale Gardens, Rutland, described as a 'theme park for gardeners'
Check opening times and facilities before visiting.
Websites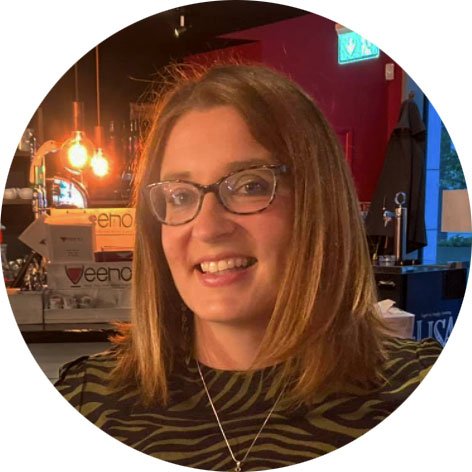 I look after communications and marketing at Dairy Diary. I'm a busy mum and love home baking and cooking for my family. In my spare time I enjoy visiting the theatre, eating out with friends and exploring the great outdoors!