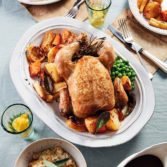 Roast Chicken Dinner
A Roast Chicken Dinner recipe taken from the
More Taste & Less Waste
Cookbook. Take one whole chicken and cook three recipes to use all of the chicken without waste.
Ingredients
Chicken 1, approx. 1.5kg (3lb 5oz)
Salt and freshly ground black pepper
Onion 1, peeled and cut into chunks
Carrot 1, peeled and cut into chunks
Celery 1 stick, roughly chopped
Bay leaves 2
Lemon 1, sliced
Rosemary 2 sprigs
Olive oil 2 tbsp
Dry white wine or water 150ml (¼ pint)
•
FOR THE ROASTED VEG
Maris Piper potatoes 2 large, peeled and quartered
Parsnip 1 large, peeled and cut lengthways into 6
Carrot 1 large, peeled and cut lengthways into 4
Chopped rosemary 2 tsp
•
FOR THE SAGE & ONION STUFFING
Onion 1 large, peeled and chopped
Butter 2 tsp
Dried sage 2 tsp
Stale bread 2 slices, blitzed into crumbs
Milk 250ml (9fl oz)
•
FOR THE GRAVY
Plain flour 1 tbsp
Chicken stock 450ml (¾ pint)
•
Garden peas to serve
Instructions
1
Preheat the oven to 220°C/200°fan/Gas 7. Season the chicken all over. Scatter the onion, carrot, celery, bay leaves and lemon in a roasting tin. Place the chicken on top and add the rosemary sprigs. Drizzle with 1 tablespoon olive oil. Add the wine or water to the tin. Cover with foil and roast for 50 minutes. Remove the foil and roast for a further 25 minutes to crisp the skin.
2
Meanwhile, place the potatoes, parsnip and carrot in a pan of cold water. Bring to the boil and simmer for 5 minutes. Drain well, then shake the pan to rough up the edges. Place all the veg in a baking tray, drizzle with remaining olive oil, sprinkle with salt and scatter with rosemary. Roast for 35-40 minutes until golden.
3
For the stuffing, fry the onion in the butter until softened. Add the sage and breadcrumbs, season, add the milk and mix well. Spoon into an ovenproof dish and place in the oven 25 minutes before the chicken is ready.
4
When the chicken is cooked, remove from the oven and place on a serving plate; cover with foil and leave to rest for 10 minutes. (Reserve the veg for the pies on page 115.)
5
To make the gravy, spoon off any fat from the roasting tin (save it to cook veg for other chicken dishes). If you have a heavy roasting tin you can put it straight on the hob; if not, pour the roasting juices into a pan, scraping in all the residual bits. Add the flour and stir over a medium–low heat to cook the flour. Add the stock and simmer, stirring often, until thickened. Pass through a sieve into a warmed jug.
6
Carve off some of the chicken and serve with the roasted veg, stuffing, gravy and peas. Use leftovers in the recipes on p114-5.
Emily Davenport