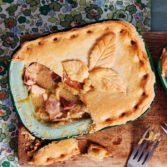 Chicken & Ham Pies
A Chicken & Ham Pies recipe taken from the
More Taste & Less Waste
Cookbook. Take one whole chicken and cook three recipes to use all of the chicken without waste.
Ingredients
Cooked chicken 150g (5oz), shredded
Ham 3 slices, chopped
Cream 3 tbsp
Salt and white pepper
Egg 1, beaten
•
FOR THE PASTRY
Plain flour 110g (4oz)
Salt pinch
Butter 50g (2oz), chilled and cubed
Instructions
1
To make the pastry, mix the flour and salt then rub in the butter until the mixture resembles fine crumbs. Add 1–2 tablespoons cold water and mix to make a firm dough. Or whizz together in a food processor. Knead gently, then wrap in greaseproof paper and chill.
2
Preheat the oven to 190°C/170°fan/Gas 5.
3
Mix together the chicken, vegetables, some leftover stuffing, the gravy, ham and cream and season with salt and pepper. Spoon into a shallow pie dish or two dishes.
4
Roll out the pastry. Brush around the edges of the pie dish (or dishes) with beaten egg.
5
Place the pastry over the top and pinch to seal to the edge of the dish. Trim the pastry around the dish with a sharp knife and make a hole in the top. If you like, use the trimmings to decorate the top. Brush with the remaining beaten egg. Bake for 30–35 minutes until golden brown.
Emily Davenport