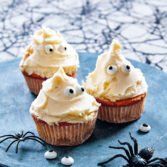 Ghostly Sweet Treats
Spookily delicious Ghostly Sweet Treats from the
Dairy Diary
2022. Perfect for Halloween.
Ingredients
Butter 200g (7oz), softened
Caster sugar 110g (4oz)
Medium eggs 2
Self-raising flour 110g (4oz)
Vanilla extract 1 tsp
Icing sugar 225g (8oz)
Seedless raspberry jam 12 heaped tsp
Edible eyes 24
Instructions
1
Preheat oven to 180°C/160°fan/Gas 4. Put 12 fairy cake cases in a 12-hole muffin tray.
2
Beat 110g (4oz) butter with caster sugar until light and fluffy. Whisk in eggs one at a time, along with flour, half the vanilla, and 1 tablespoon water until smooth. Divide mix between cases. Bake for 20-25 minutes until risen and golden. Leave to cool completely on a wire rack.
3
Whisk remaining butter with icing sugar, remaining vanilla and 2 tablespoons warm water to make a spreadable buttercream.
4
Leaving a thin border, cut a cone shape out of each cake. Spoon jam into hole and place cone back on top, pointing upwards. Spread a heaped tablespoon of buttercream over each cake, creating a 'quiff' on top. Pop eyes on. The cakes will keep for a few days in an airtight container.
Emily Davenport