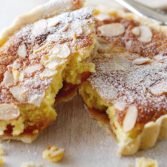 Apricot Bakewell Tarts
A fabulous twist on the classic Bakewell tart, these mini tarts taste truly scrumptious with the addition of velvety apricots. Apricot Bakewell Tarts is taken from
Just For One or Two.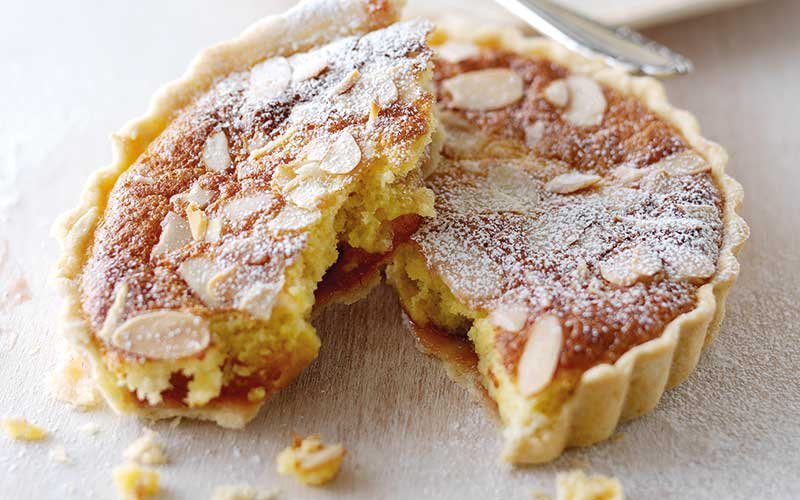 Ingredients
Plain flour 50g (2oz)
Caster sugar 2 tsp plus 25g (1oz)
Butter 25g (1oz), diced
Strawberry or raspberry jam 4 tsp
Dried ready-to-eat apricots 40g (1½oz), sliced
Egg 1
Almond extract a few drops
Ground almonds 3 tbsp
Skimmed milk 2 tbsp
Flaked almonds 1 tbsp (optional)
Icing sugar for dusting
Cream or ice cream to serve (optional)
Instructions
1
Place the flour and 2 teaspoons sugar in a bowl and rub in the butter to make fine crumbs. Stir in 2-3 teaspoons cold water to make a smooth dough.
2
Knead lightly on a floured surface and then cut in half and roll each half out thinly. Use to line two 10cm (4in) diameter tart tins. Trim the tops and chill for 15 minutes.
3
Preheat the oven to 190°C/375°F/Gas 5. Spread the jam over the base of the tarts and then sprinkle with the apricots.
4
Separate the egg into two medium-sized bowls. Whisk the white until stiff and moist peaks form. Add the remaining sugar and almond extract to the egg yolk and whisk until it is thick and pale. Fold in the ground almonds and milk, then gently fold in the egg white.
5
Pour the mixture over the apricots, sprinkle with the flaked almonds, if using, and bake for 15–20 minutes until golden and just set. Check after 10 minutes and cover with foil if necessary to stop over-browning.
6
Leave to cool for 15 minutes, remove from the tins and dust with icing sugar. Serve with fresh cream or ice cream if you like.
Emily Davenport