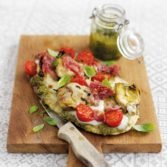 Antipasti Pitta Pizza
A delicious and fuss-free Antipasti Pitta Pizza recipe.
Ingredients
Pitta bread 1
Pesto sauce 1 tbsp
Grated Mozzarella cheese 50g (2oz) or 5 heaped tbsp
Parma ham 1–2 slices
Chargrilled artichokes in olive oil 4 pieces
Cherry tomatoes 5–6, halved
Freshly ground black pepper
Basil leaves to garnish (optional)
Instructions
1
Preheat the grill to hot with the rack about 10cm (4in) away from the heat. Put the pitta on a baking sheet and grill on one side, just to warm it through.
2
Turn it over and spread with the pesto and about two-thirds of the cheese.
3
Tear the ham into a few strips straight over the top. Nestle in the artichoke pieces and tomato halves and sprinkle with the rest of the cheese. Drizzle a little oil from the jar of artichokes over the pizza.
4
Grill for about 5 minutes until the cheese has melted and browned. Season with pepper and sprinkle with basil leaves, if using.
Katy Hackforth