Mediterranean Pitta with Houmous
A deliciously low-calorie Mediterranean Pitta with Houmous recipe taken from the
Quick After-Work
Cookbook.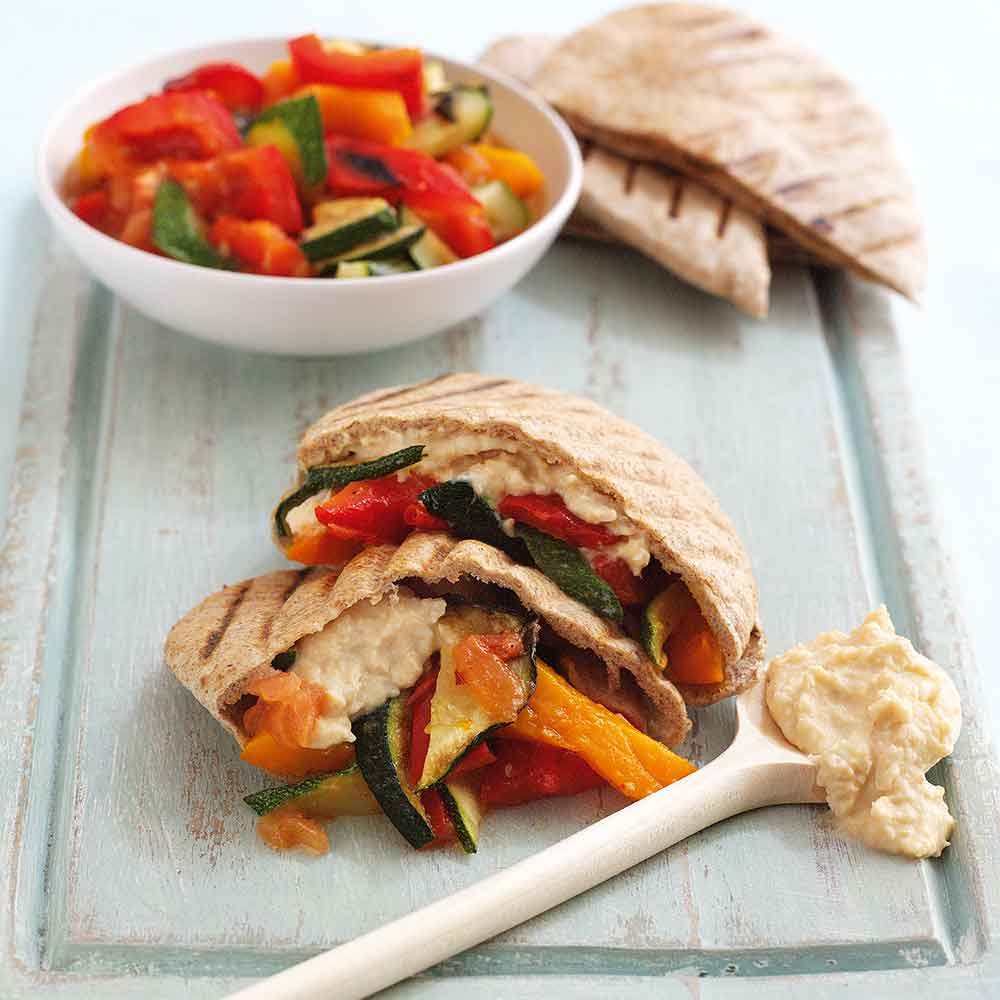 Ingredients
For the houmous:
Chickpeas 410g can, drained and rinsed
Garlic 1 clove, peeled
Chopped coriander 2 tbsp
Natural fromage frais 200g (7oz)
Tabasco sauce dash
Salt and freshly ground black pepper
•
For the grilled veg:
Red peppers 2, quartered and deseeded
Plum tomatoes 4, halved
Courgettes 2–3, sliced
Caster sugar a pinch
Olive oil 2 tbsp
•
Wholemeal pitta bread 4, toasted, to serve
Instructions
1
To make the houmous, tip the chickpeas into a food processor, add the garlic, coriander and fromage frais and purée until smooth. Stir in Tabasco sauce and salt and pepper to taste.
2
Preheat the grill to high. Lay all the vegetables on a grill rack, with the peppers skin-side up and the tomatoes cut-side up. Sprinkle the sugar over the tomatoes. Brush 1 tablespoon olive oil over the courgettes. Grill the vegetables for 7–8 minutes until the courgettes and peppers are golden. Turn the peppers and courgettes over and brush the courgettes with another tablespoon olive oil. Cook the vegetables for a further 4–5 minutes until they are golden.
3
Remove the vegetables from under the grill. Place the red peppers in a plastic bag and leave them to cool. Leave the courgettes and tomatoes to cool on the grill rack.
4
Scoop the tomatoes out of their skins and place in a bowl. Remove the skins from the red peppers and roughly chop the flesh, and then roughly chop the courgettes. Mix all the vegetables together and season to taste.
5
Split each pitta open along one side to form a pocket. Spread houmous over one side of the pitta and fill with vegetables. Top with a little extra houmous and serve.
Emily Davenport