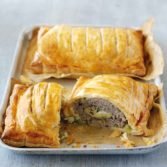 Sausage & Artichoke Rolls
The surprising combination of ingredients in these Sausage & Artichoke Rolls is a taste sensation that turns an everyday sausage roll into a delicious golden parcel of contrasting flavours. Recipe taken from the
Just For One Or Two
Cookbook.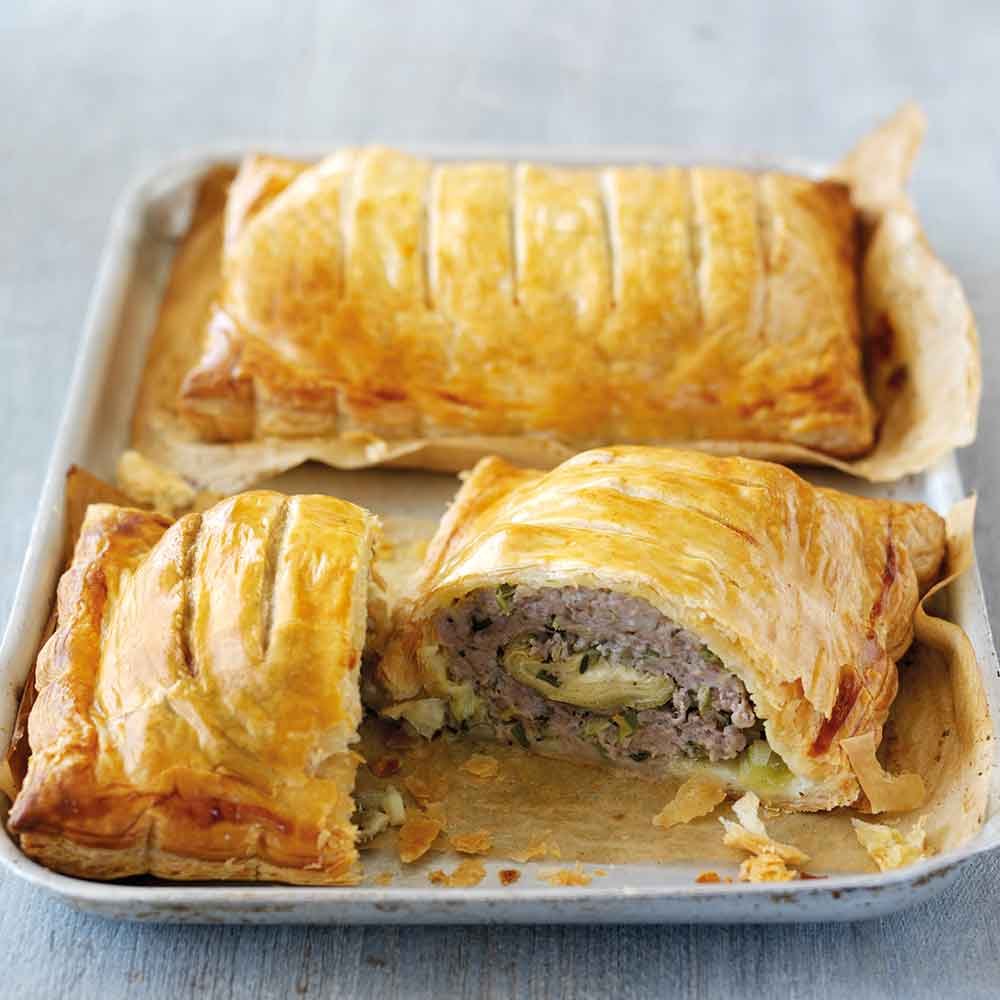 Ingredients
Lincolnshire or Cumberland sausages 8 (approx. 500g/
1lb 2oz)
Spring onions 4, trimmed and chopped
Salt and freshly ground black pepper
Chilled ready-rolled puff pastry 375g pack
English mustard 2 heaped tsp
Chargrilled artichoke 6 pieces
Beaten egg for glazing
Instructions
1
Skin the sausages and mix the meat in a bowl with the spring onions and lots of seasoning. Line two baking sheets with non-stick parchment paper.
2
Unroll and cut the pastry into four pieces. Roll out two pieces a little more, each to a rectangle 19 x 12cm (7½ x 5in) and transfer to the baking sheets.
3
Spread 1 teaspoon of the mustard over each piece of pastry, leaving a 2.5cm (1in) border. Divide the meat into four and spread one of the portions along each of the pastry bases. Lay three of the artichoke pieces on top of each portion and then top with the remaining meat. Brush the pastry edge with water.
4
Roll out the remaining pastry a little larger than the first, about 20 x 14cm (8 x 5½in). Lay them carefully over the top of the meat and seal well around the filling. Trim the edges. Each slice will serve 2.
5
TO SERVE NOW: Chill the slice while the oven heats up to 200°C/400°F/Gas 6. Brush a little egg over the pastry and score the top a few times. Bake for 50–55 minutes in the lower half of the oven to ensure the pastry base is crisp and eat while still hot.
6
TO FREEZE: Open-freeze the remaining slice on the baking sheet until solid, then take the slice off the baking sheet and put it in a polybag. Seal, label and freeze. Use within 2 months.
7
TO SERVE FROM THE FREEZER: Take the slice out of its bag, keeping it on the paper, and thaw in the fridge overnight. Cook as above.
Emily Davenport