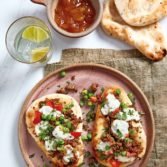 Keema Naan Pizza
Ingredients
Lean minced beef 250g (9oz)
Onion 1 small, peeled and finely chopped
Garlic 1 clove, peeled and crushed
Mild curry powder 2–3 tsp
Tomato 1 large, ripe, chopped
Frozen peas 100g (3½oz)
Salt ½ tsp
Naan bread 2 small or 4 mini
Mozzarella cheese 125g pack, drained
Chopped fresh coriander, lemon or lime wedges, salad, mango chutney to serve
Instructions
1
Put the mince, onion, garlic and curry powder in a saucepan and dry fry for 5 minutes, stirring, until browned all over. Add the tomato, cover and cook gently for 10 minutes.
2
Stir in the peas and salt, cover and cook gently for a further 10 minutes until everything is cooked through. Keep warm.
3
Preheat the grill to medium–hot. Sprinkle the naan breads with water and grill on one side for 1–2 minutes until lightly golden.
4
Spoon the curried mince over the naan breads. Break up the mozzarella and dot all over the top. Cook under the grill for 2–3 minutes until melted and bubbling. Serve immediately, topped with fresh coriander and accompanied with lemon or lime wedges, salad and mango chutney.
Emily Davenport