One-Pan Pizza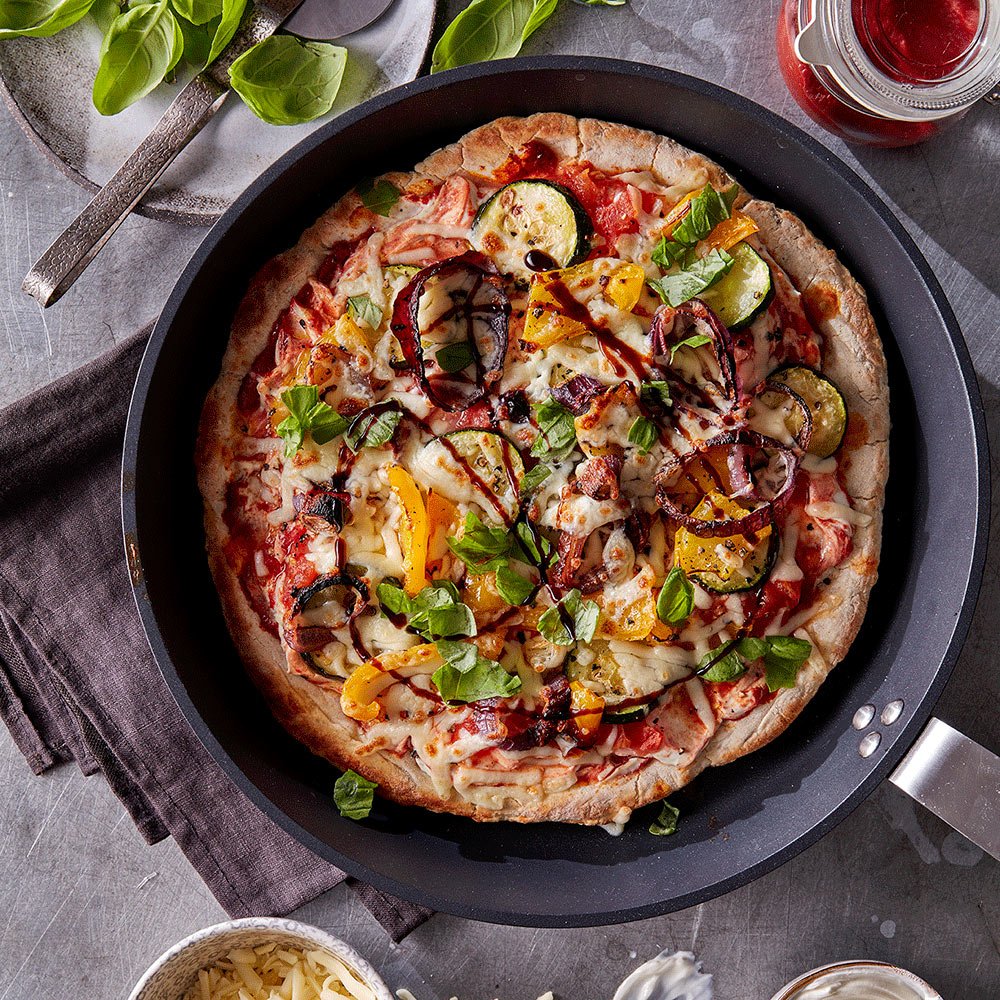 Ingredients
Tomatoes 2, halved
Yellow pepper 1, deseeded and cut into chunks
Red onion 1 small, peeled and cut into thick rings
Courgette 1, thickly sliced
Salt and freshly ground black pepper
Light olive oil 1 tsp
Tomato purée 2 tbsp
Reduced fat soft cheese 3 tbsp
Grated mozzarella cheese 50g (2oz)
Basil leaves handful, roughly torn
Balsamic glaze 1 tbsp
Crisp green salad to serve
For the pizza base
Self-raising flour 175g (6oz), plus extra for dusting
Salt ½ tsp
Dried rosemary 1 tsp
Low fat natural yogurt 4 tbsp
Olive oil spray
Instructions
1
Preheat the oven to 220°C/200°fan/Gas 7. Line a baking sheet with foil, spread the tomatoes, yellow pepper, onion and courgette over the baking sheet, season well and sprinkle over the oil. Roast for 15 minutes until starting to soften and lightly brown. Set aside.
2
Meanwhile, make the pizza base. Place the flour, salt, rosemary and yogurt in a bowl, sprinkle over 3 tablespoons cold water and work together to make a soft, sticky dough. Tip onto a lightly floured surface and knead briefly then roll out to a circle to fit a 25–26cm (approx. 10in) frying pan; alternatively you can divide the dough in half and roll out to fit two 20cm (8in) frying pans.
3
Place the frying pan over a medium heat and spray with a little oil. When the pan is hot, lay the pizza base in the pan and cook for 4–5 minutes until the underside is golden brown. Flip it over and cook for a further 4–5 minutes.
4
Preheat the grill to hot. Remove the frying pan from the heat. Spread the tomato purée over the pizza base to within 2cm (¾in) of the edge then spread over the soft cheese.
5
Lightly crush the cooked tomatoes over the base then arrange the remaining roasted vegetables on top. Season well with black pepper then scatter on the mozzarella.
6
Pop the pan under the grill for 2–3 minutes to melt the cheese. Slide the pizza onto a board, tear over the basil and drizzle with balsamic glaze. Cut into wedges and serve with green salad.
Emily Davenport