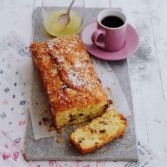 Pineapple, Coconut & Fruit Loaf
Our favourite recipe from
Dairy Diary
2020 – Pineapple, Coconut & Fruit Loaf.
Ingredients
Self-raising flour 150g (5oz)
Desiccated coconut 75g (3oz)
Caster sugar 75g (3oz)
Butter 110g (4oz), softened
Eggs 2
Pineapple chunks in juice 227g/230g can, chopped
Luxury dried mixed fruit 75g (3oz)
Granulated sugar 2 tbsp
Instructions
1
Preheat oven to 190°C/170°fan/Gas 5. Grease and line a 900g (2lb) loaf tin.
2
In a mixing bowl, mix together flour, 50g (2oz) coconut, caster sugar, butter and eggs. Fold in pineapple chunks (reserve juice) and dried fruit. Spoon into prepared tin and smooth the top. Sprinkle with remaining coconut. Bake for 40–45 minutes until a skewer comes out clean (cover with foil if browning too quickly).
3
Mix 5 tablespoons reserved pineapple juice with granulated sugar and spoon over the cake as soon as it comes out of the oven. Leave to cool in tin for 10 minutes before cooling on a wire rack.
Emily Davenport