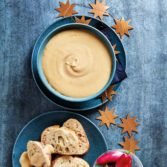 Hot Cheddar Rarebit Dip
A lip-smacking Hot Cheddar Rarebit Dip taken from
Dairy Diary
2022.
Ingredients
Double cream 275ml (9fl oz)
Dijon mustard 1½ tsp
Tamarind paste 1 tsp (optional)
Soy sauce 1 tbsp
Brown ale 90ml (3fl oz)
Mature Cheddar cheese 250g (9oz), grated
Plain flour 1 tbsp
Toasted baguette and vegetable crudités to serve
Instructions
1
Pour cream into a pan and add mustard, tamarind paste, if using, soy and brown ale.
2
Heat gently, whisking, for about 5 minutes until ingredients are combined.
3
Season, add grated cheese and flour, and whisk for a further 2-3 minutes, until thickened and smooth.
4
Spoon into a shallow bowl and serve immediately with toasted baguette and vegetable crudités.
Emily Davenport