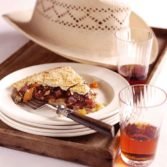 Cumberland Rum Nicky
This delicious Cumberland Rum Nicky dessert is taken from the beautiful
Around Britain
Cookbook.
Best British Regional Recipes: North West
The ports of Whitehaven, Workington and Maryport were at the centre of the UK rum trade in the 18th century, importing rum, molasses and sugar from the Caribbean. The Cumbrians combined these imported ingredients to create this delicious dessert
Ingredients
Stoned dates 225g (8oz), chopped
Ready-to-eat dried apricots 110g (4oz), chopped
Chopped glacé ginger 50g (2oz)
Light rum 3 tbsp
Orange 1, juice only
Soft light brown sugar 2 tbsp
Plain flour 225g (8oz)
Salt pinch
Butter 130g (4½oz)
Egg yolk 1, lightly beaten
Milk 1 tbsp
Demerara sugar to decorate
Instructions
1
Preheat the oven to 200°C/400°F/Gas 6. Mix the dates, apricots, ginger, rum and orange juice together with half of the sugar. Leave to soak while making the pastry.
2
Put the flour and salt in a bowl and add 110g (4oz) of the butter. Rub in until the mixture resembles fine breadcrumbs. Add the remaining sugar and then the egg yolk and about 2 tbsp water to bind together.
3
Knead the pastry lightly on a floured surface. Roll out half of the pastry and use to line a greased 25cm (10in) flat pie plate.
4
Spread the fruit mixture over the pastry and dot with the remaining butter. Brush the edge with a little water.
5
Roll out the remaining pastry and use to cover the pie. Make a hole in the centre to allow steam to escape. If you have any pastry left over, use it to form leaves with which to decorate the top of the pie. Brush with milk and bake for 30–35 minutes. Sprinkle with demerara sugar and serve hot with cream.
Emily Davenport