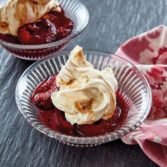 Roast Plums with Rum, Ginger & Treacle Cream
An irresistible Roast Plums with Rum, Ginger & Treacle Cream recipe taken from
Dairy Diary
2022.
Ingredients
Red plums 12, halved and stoned
Stem ginger 2 pieces, finely sliced
Muscovado sugar 8 tbsp
Orange juice 4 tbsp
Dark rum 6 tbsp
Double cream 175ml (6fl oz)
Greek yogurt 175g (6oz)
Instructions
1
Preheat oven to 180°C/160°fan/Gas 4. Arrange plums, cut-side up, in a large ovenproof dish so they sit snugly in one layer, if possible. Scatter stem ginger and half the sugar over. Pour in orange juice and rum. Bake for 25-40 minutes (depending on ripeness of plums) until fruit is tender but still holds its shape. Leave to cool completely.
2
Whip double cream to very soft peaks, then fold in yogurt. Spoon into a serving bowl and sprinkle evenly with remaining sugar. Cover with foil or baking paper and chill. The sugar will dissolve and become soft and treacly. Swirl into cream for serving with plums.
Emily Davenport