Spaghetti Tortilla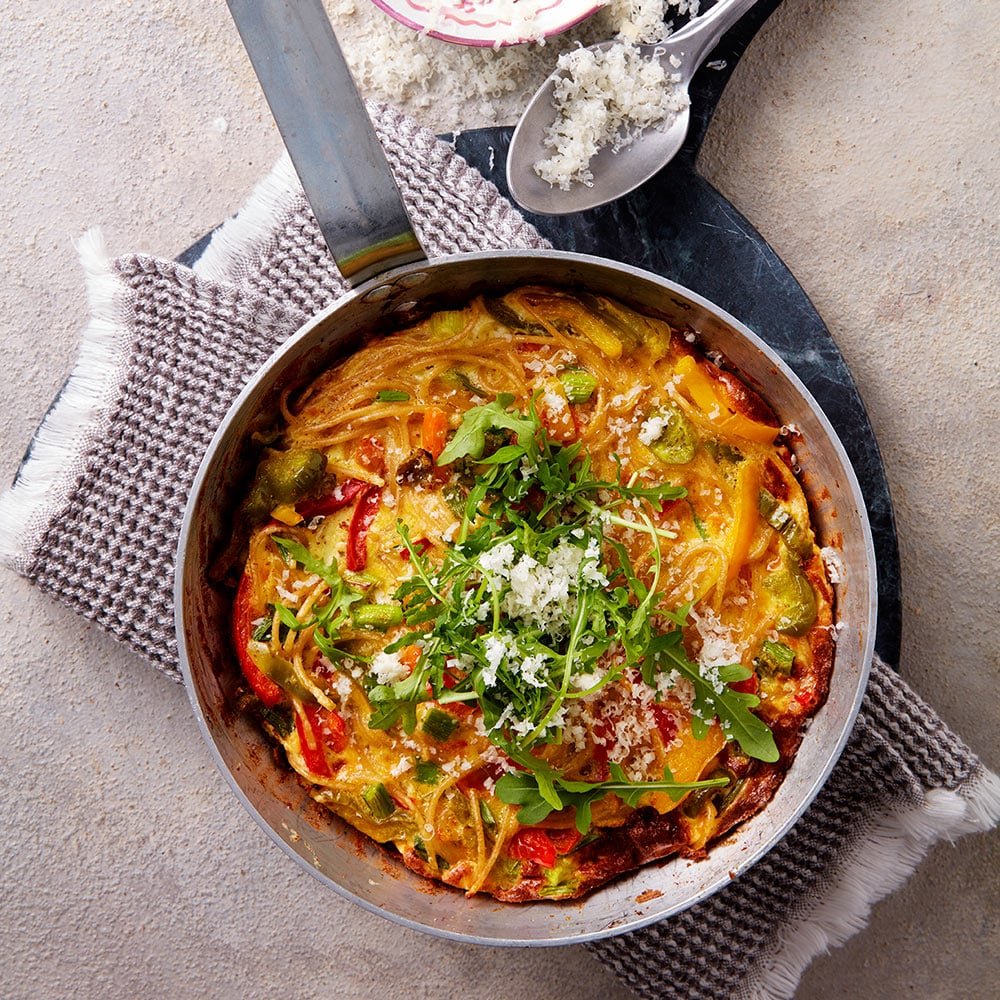 Ingredients
Wholewheat spaghetti 75g (3oz)
Salt and freshly ground black pepper
Olive oil spray
Spring onions 2, trimmed and chopped
Frozen sliced peppers 100g (3½oz)
Button mushrooms 75g (3oz), sliced
Reduced fat soft cheese with garlic and herbs 100g (3½oz)
Eggs 3 medium
Wild rocket 15g (½oz)
Parmesan-style cheese 15g (½oz), grated
Balsamic vinegar glaze or drizzle 1 tbsp
Instructions
1
Break the spaghetti into short lengths. Cook in a pan of lightly salted boiling water for 8–10 minutes until just cooked. Drain well.
2
Meanwhile, spray a small (approx. 20cm/8in) non-stick frying pan with oil and heat until hot. Add the spring onions, frozen peppers and mushrooms and stir-fry for 3–4 minutes until softened.
3
Beat the soft cheese and eggs together until well blended and season to taste.
4
Add the spaghetti to the vegetables, pour over the cheese and egg mixture and mix well. Cook over a very low heat for about 15 minutes until set – if you cover the pan with a lid it will help set the egg more evenly.
5
Loosen the tortilla and slide onto a plate. Put back in the pan the other way up and cook for a further 2–3 minutes to lightly brown the other side.
6
To serve, slide the tortilla onto a serving plate, pile the rocket on top and sprinkle with the Parmesan. Drizzle with balsamic glaze and serve warm.
Katy Hackforth