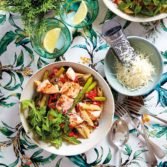 Italian-Style Salmon Pasta
Ingredients
Asparagus spears 250g (9oz)
Char-grilled pepper antipasti 280g jar
Salt and freshly ground black pepper
Salmon fillets 2 x 150g (5oz)
Sun-dried tomato paste 2 tbsp
Penne pasta 150g (5oz)
Pitted black olives 25g (1oz), sliced
Capers 2 tbsp, roughly chopped
Rocket large handful
Parmesan cheese, grated, to serve
Instructions
1
Preheat the oven to 200°C/180°fan/Gas 6. Line a baking tray with baking paper. Trim off the woody ends from the asparagus then cut into 5cm (2in) lengths. Place on the baking tray. Drain the oil from the jar of peppers into a jug. Brush the asparagus with a little of the oil and season with salt and pepper.
2
Place the salmon on the baking tray and spread with the tomato paste. Bake for 20 minutes until cooked through.
3
Meanwhile, cook the pasta in a pan of boiling water according to the pack's instructions. Drain well, return to the pan and keep covered.
4
Chop the peppers into small pieces and add to the pasta along with the olives and capers. Stir in 2 tablespoons of the reserved pepper oil and stir over a low heat for 2–3 minutes to heat through. Cover and keep warm.
5
Flake the salmon into large chunks and drain the asparagus.
6
Gently mix both into the pasta and heat through for 1 minute until piping hot. Serve in warmed bowls with rocket piled on top, with grated Parmesan on the side.
Emily Davenport