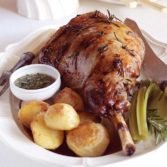 Roast Leg of Welsh Lamb
This succulent Roast Leg of Welsh Lamb recipe is taken from the beautiful 
Around Britain
 Cookbook.
Best British Regional Recipes: Wales
Dewi Sant, or Saint David, was a Celtic monk who lived in the 6th century. He was one of the early saints who helped to spread Christianity among the pagan tribes of western Britain. Celebrate St David's Day on 1 March with traditional roast lamb.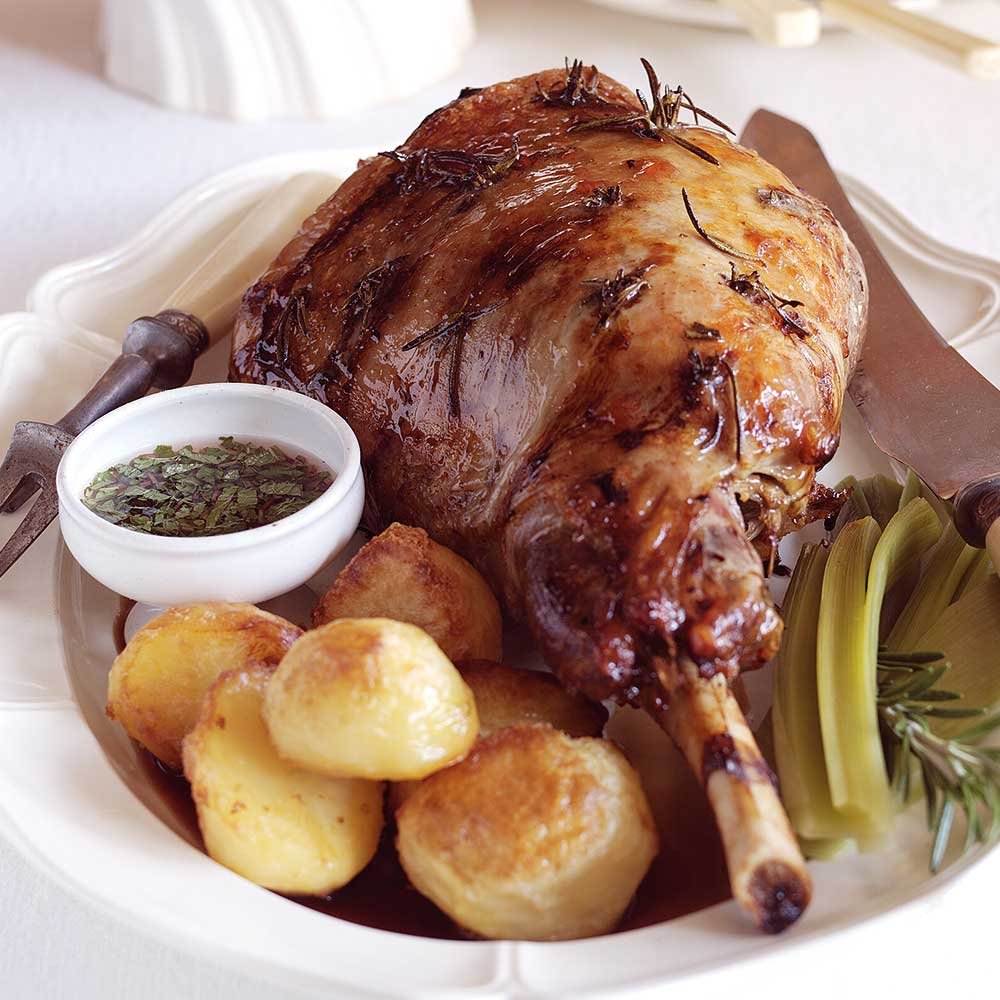 Ingredients
Leg of Welsh lamb 2.2kg (4lb 12oz), at room temperature
Rosemary 15–20 small sprigs plus extra for garnishing
Olive oil 1–2 tbsp
Salt and freshly ground black pepper
Mint leaves 50g (2oz)
Caster sugar 1½ tbsp
Boiling water 3 tbsp
White or red wine vinegar 150ml (¼ pint)
Plain flour 2 tbsp
Red or white wine 150ml (¼ pint)
Lamb or chicken stock 300ml (½ pint)
Instructions
1
Preheat the oven to 220°C/425°F/Gas 7. Wipe the lamb all over with kitchen paper and then, with a small, sharp, pointed knife, make 15–20 small incisions all over the leg. Insert a small sprig of rosemary into each incision. Place the lamb on a roasting rack in a roasting tin, drizzle with olive oil and sprinkle with salt.
2
Cook the lamb in the centre of the oven for 20 minutes, then reduce the temperature to 180°C/350°F/Gas 4, and, for lamb that is slightly pink, continue cooking for another 1 hour 10 minutes. For well-done lamb, continue cooking for another 10 minutes – taking care not to overcook, as the meat will lose its succulence.
3
While the lamb is cooking, make the mint sauce – about 20 minutes before the lamb is due to be ready. Place the mint leaves on a chopping board, sprinkle with the sugar and then chop finely. Place in a bowl and stir in the hot water. Stir the vinegar into the mint, then pour into a serving jug or bowl.
4
Carefully remove the leg of lamb from the rack, place it on a serving dish, loosely cover with foil and set aside while making the gravy.
5
To make the gravy, pour all the cooking juices into a bowl, and then skim off all the fat from the surface.
6
Pour 2–3 tbsp of the lamb fat into the roasting tin and stir in the flour, then add the cooking juices, wine and stock. Place the roasting tin over a moderate heat and bring the mixture to the boil, stirring and scraping any browned residue from the bottom of the tin.
7
Allow the gravy to simmer gently for 10 minutes, season to taste, and then strain into a warmed gravy boat or jug.
8
Garnish the lamb with rosemary sprigs and serve accompanied with roast potatoes and steamed quartered leeks.
Emily Davenport