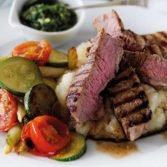 Griddled Lamb with Fresh Pesto, Celeriac Mash & Ratatouille
Soft and creamy celeriac mash with tender lamb and a colourful ratatouille – all served with a fresh homemade pesto.
Griddled Lamb with Fresh Pesto, Celeriac Mash & Ratatouille is taken from  Just For One or Two Cookbook.
Ingredients
Celeriac 350g (12oz), peeled and diced
Lemon juice 3 tsp
Salt and freshly ground black pepper
Olive oil 4 tbsp
Red onion 1 small, peeled and sliced
Fennel 1 small head, cored and thinly sliced
Courgette 1 small, trimmed and thinly sliced
Baby plum or cherry tomatoes 4, halved
Chopped basil 4 tbsp
Chopped mint 4 tbsp
Garlic 1 clove, peeled and crushed
Pine nuts 1 tbsp, toasted
Lamb steaks or chops 2, or 4 if small
Butter 15g (½oz)
Nutmeg grated
Instructions
1
To make the mash, put the celeriac and 1 teaspoon lemon juice in a pan, cover with cold water and add a pinch of salt. Bring to the boil, then cover, reduce the heat and simmer for 20–25 minutes until soft.
2
Meanwhile, make the ratatouille. Heat 1 tablespoon oil in a frying pan over a medium heat. Add the onion and cook for about 5 minutes until softened. Add the fennel and courgette and cook for about 15 minutes until just tender, stirring occasionally. Take the pan off the heat, add the tomato halves and season well.
3
To make the pesto, mix the herbs in a bowl with the garlic, pine nuts, remaining lemon juice and 2 tablespoons of the oil. Season to taste.
4
To cook the lamb, heat a griddle or frying pan over a high heat. Brush the meat with the remaining oil and cook for 2 minutes on both sides, then reduce the heat to low and cook for a further 3–4 minutes on each side.
5
Drain the celeriac when it is soft, return it to the pan and place over a low heat to remove any moisture. Add the butter and mash well. Season well with salt, pepper and nutmeg.
Serve the lamb on the mash on warm plates accompanied with the ratatouille and pesto.
Emily Davenport