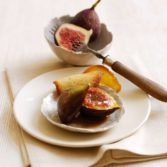 Roast Figs with Ginger Thins
Ingredients
Butter 15g (½oz)
Figs 4, halved
Soft light brown sugar 1 tsp
Marsala, Madeira or ginger wine 2 tbsp
Natural yogurt or crème fraîche to serve
FOR THE YOGURT THINS
Butter 25g (1oz)
Egg white 1
Caster sugar 25g (1oz)
Plain flour 25g (1oz)
Ground ginger ½ tsp
Instructions
1
To make the ginger thins, preheat the oven to 200°C/180°fan/Gas 6. Lightly grease two baking sheets. Melt the butter and set aside.
2
Whisk the egg white until stiff, then add the sugar and whisk again until stiff. Sift in the flour and ginger and fold in the melted butter.
3
Mix lightly. Put teaspoonfuls of the mixture onto the prepared baking sheets and spread out to about 7.5cm (3in), making six or seven at a time.
4
Bake each batch for 5 minutes until pale golden. Leave on the baking sheet for a few seconds to firm, then remove the biscuits with a palette knife and drape over a rolling pin to curl, cool and crisp.
5
To cook the figs, heat the butter in a pan and fry the figs, cut-side down, for 2 minutes until browned. Turn them over, stir in the brown sugar and then the wine and cook for a further 1–2 minutes until syrupy.
6
Serve the figs with the sauce drizzled over them and one or two ginger thins per person. Serve with a teaspoon of yogurt or crème fraîche.
Emily Davenport