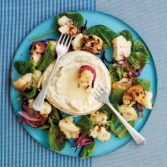 Roast Cauliflower with Baked Camembert
This Roast Cauliflower with Baked Camembert is the perfect starter to a special dinner. A
Dairy Diary
2020 recipe.
Ingredients
Large cauliflower 1, florets cut into chunks
Red onion 1, peeled, halved and thinly sliced
Olive oil 3 tbsp
Lemon juice 1 tbsp
Dukkah 2 tbsp
Camembert in a wooden box 240g
Baby spinach 110g (4oz)
Instructions
1
Preheat oven to 210°C/190°fan/Gas 6–7. Spread cauliflower and onion in a large roasting tin. Drizzle with oil and lemon juice and mix gently. Scatter with dukkah and roast for 15 minutes.
2
Meanwhile, remove waxed paper from cheese, put cheese back in its box with the lid on and tie a piece of string around the side to keep it together.
3
Stir vegetables and put cheese box in tin. Bake for 15–20 minutes until cauliflower is browning and cheese is soft and gooey.
4
Put cheese box on a serving plate, remove lid and peel back rind. Scatter spinach leaves around it and top with cauliflower mixture.
Katy Hackforth