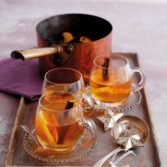 Mulled Cider
Warm-up dark winter days with this wonderful Mulled Cider from
Dairy Diary
2020.
Ingredients
Orange 1 large
Cloves 6
Cinnamon sticks 2
Vanilla pod 1, halved (optional)
Good quality dry cider 3 bottles (1.5 litres/2½ pints)
Demerara sugar 3 tbsp
Instructions
1
Peel zest from orange in strips. Cut orange into slices and set aside.
2
Push cloves into zest and place in a large pan with cinnamon sticks and vanilla pod, if using.
3
Pour cider into pan and stir in sugar. Heat gently for 30 minutes until sugar has dissolved and cider has infused with flavours. Serve in heatproof glasses with slices of orange and cinnamon sticks, cut into strips.
Emily Davenport