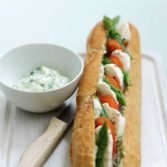 Mozzarella & Asparagus Baguette
This Mozzarella & Asparagus Baguette recipe is perfect for a quick and easy lunch. Recipe taken from
Just For One or Two
Cookbook.
Ingredients
Ready-to-bake baguette 1 small
Asparagus spears 3, depending on size, woody ends snapped off then halved
Mayonnaise 1 tbsp
Finely shredded basil 1 tbsp
Finely chopped parsley 1 tbsp
Tomato 1, sliced
Mozzarella cheese 50g (2oz), thinly sliced
Freshly ground black pepper
Instructions
1
To cook the baguette, preheat the oven according to the packet's instructions and bake the baguette. Remove it from the oven and set aside to cool.
2
Meanwhile, cook the asparagus spears in gently boiling, lightly salted water for 3–5 minutes until tender. Drain.
3
Cut the baguette almost into two lengthways. Mix the mayonnaise with the basil and parsley and spread over the cut sides of the baguette.
4
Lay alternate slices of tomato, Mozzarella and pieces of asparagus on the baguette. Season with pepper and serve immediately.
Emily Davenport