Oaty Cheese & Chive-Crusted Smoked Haddock with Asparagus
A deliciously low-calorie Oaty Cheese & Chive-Crusted Smoked Haddock with Asparagus recipe taken from the
Quick After-Work
Cookbook.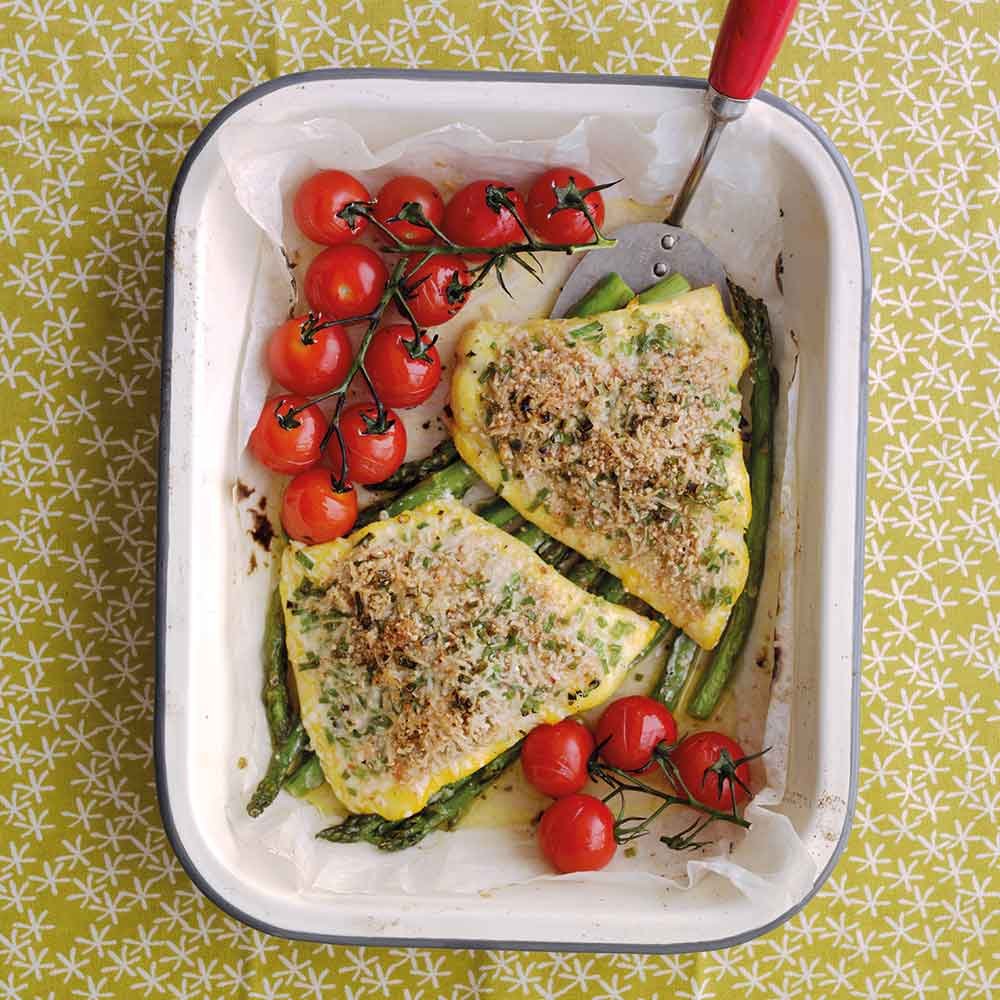 Ingredients
Oatmeal 2 tbsp
Thin asparagus spears 12, trimmed
Olive oil 1 tsp
Freshly ground black pepper
Smoked haddock fillets 2 x 150g (5oz)
Grated Parmesan cheese 3 tbsp
Chopped chives 2 tbsp
Butter 15g (½oz)
Cherry tomatoes on the vine 175g (6oz)
New potatoes to serve
Instructions
1
Preheat the oven to 200°C/180°fan/Gas 6. Line a baking tray with baking paper. Heat a small frying pan until hot. Sprinkle over the oatmeal and toast for 2–3 minutes, stirring, until lightly browned. Turn out onto a plate and leave to cool for 5 minutes.
2
Meanwhile, arrange the asparagus spears on the baking tray, brush lightly with olive oil and season with pepper. Rinse the fish and pat dry. Lay on top of the asparagus. Mix the cheese and chives with the oatmeal and spoon on top of the fish to make a crust. Melt the butter and drizzle over the top. Bake for 10 minutes.
3
Add the tomatoes to the tray and continue to cook for 8–10 minutes until everything is cooked through. Using a fish slice, lift the fish and vegetables onto two warmed plates and serve with boiled new potatoes.
Emily Davenport