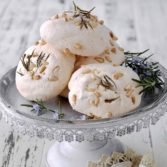 Lemon & Herb Meringues
Ingredients
3 egg whites
175g (6oz) caster sugar
1 tsp finely chopped rosemary leaves
1 small lemon, finely grated zest
65g (2½oz) toasted pine nuts
6 small sprigs rosemary
Instructions
1
Line a large baking sheet with baking paper.
2
Whisk the egg whites until stiff and dry.
3
Add sugar gradually, whisking well after each addition.
4
Fold in chopped rosemary, lemon zest and all but 15g (½oz) pine nuts then spoon six mounds onto baking sheet.
5
Sprinkle with reserved nuts and gently press a rosemary sprig on top of each.
6
Bake at 150˚C/130˚fan/Mark 2 for 1-1½ hours until pale golden and crisp and easily come away from paper. Cool for 10 minutes then transfer to a wire rack to cool completely.
Emily Davenport