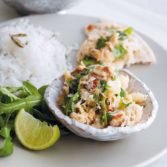 Buttered Crab
Ingredients
Butter 25g (1oz)
Garlic 1 clove, peeled and crushed
Green chilli 1 small, deseeded and chopped
Freshly ground black pepper about ½ tsp
White crab meat 100–120g (around 4oz)
Brown crab meat 15g (½oz) (optional)
Fresh coriander a handful, roughly chopped
Salt a pinch
Lime juice 2–3 tsp
Rice to serve (optional)
Green salad to serve (optional)
Lime ½, cut into 2 wedges (optional)
Instructions
1
Heat 2 tablespoons water in a small pan over a medium heat, add the butter and stir until it emulsifies.
2
Add the garlic, chilli and pepper and simmer for a couple of minutes. Add the crab meat, most of the coriander, a pinch of salt and lime juice to taste and stir until smooth and creamy.
3
Spoon into small bowls and garnish with coriander. Serve with rice, a fresh green salad and lime wedges, if you like.
Emily Davenport