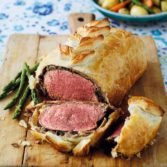 Beef Wellington
Try this Beef Wellington recipe from our fabulous
Cook it Slowly
Cookbook.
Ingredients
Fillet of beef 1.4kg (3lb)
Freshly ground black pepper
Vegetable oil 1 tbsp
Butter 25g (1oz)
Button mushrooms 225g (8oz), sliced
Smooth liver pâté 110g (4oz)
Puff pastry 500g pack
Egg 1, beaten
New potatoes, baby carrots and asparagus to serve (optional)
Instructions
1
Season the beef fillet with pepper. Heat the oil and 15g (1⁄2oz) of the butter in a large frying pan. Add the meat and fry for around 5 minutes on each side. Press down with a wooden spoon while frying to seal well.
2
Wrap the fillet in cling film and place into a small loaf tin, so that the meat 'sets' into a good shape. Cool and then chill.
Meanwhile, add the remaining butter to the frying pan and sauté the mushrooms in the pan juices. Leave to cool and then blend with the pâté.
3
Preheat the oven to 220°C/200°fan/Gas 7. On a lightly floured surface, roll the pastry out to about 34 x 30cm (13½ x 12in). Spread the pâté mixture in a strip down the pastry and then place the beef on the pâté, near one short end.
4
Fold the pastry edges over the beef like wrapping a parcel, sticking them together with egg and trimming away the bulky pieces of pastry from the ends where the pastry becomes a double thickness. Turn over the wrapped beef and put the joins underneath.
5
Brush all over with egg. Then roll out the trimmings and create pastry leaves with which to decorate the top. Brush with egg.
6
Place on a baking tray and bake for 50–60 minutes, depending on your preference, covering with foil after 25 minutes. Allow to rest for 10 minutes before serving. Serve with potatoes, carrots and asparagus if you like.
Emily Davenport