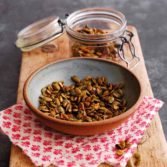 Spicy Pumpkin Seeds
A spooktacular Halloween Spicy Pumpkin Seeds recipe from the
Dairy Diary
2020.
Ingredients
Pumpkin seeds 50g (2oz), washed and dried
Vegetable oil ½ tsp
Sweet smoked paprika ½ tsp
Ground cumin ½ tsp
Coarse salt ¼–½ tsp
Instructions
1
Put seeds in a frying pan and cook over a medium heat for about 2 minutes until they start to jump but not brown.
2
Take pan off heat. Add oil and stir to coat seeds then sprinkle in spices and salt and stir well. Tip onto a plate and leave to cool for a few minutes. Serve as a snack with drinks.
Emily Davenport