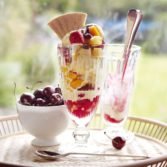 Knickerbocker Glory
This gorgeous Knickerbocker Glory recipe is taken from the beautiful Around Britain Cookbook.
Best British Regional Recipes: North East & Yorkshire
This ice-cream extravaganza originated in New York and was named after its original Dutch settlers, the 'Knickerbockers'. However, its popularity here in Britain is due to an Italian, named Pacitto, who opened an ice-cream parlour in Redcar – where he introduced the Knickerbocker glory to the British.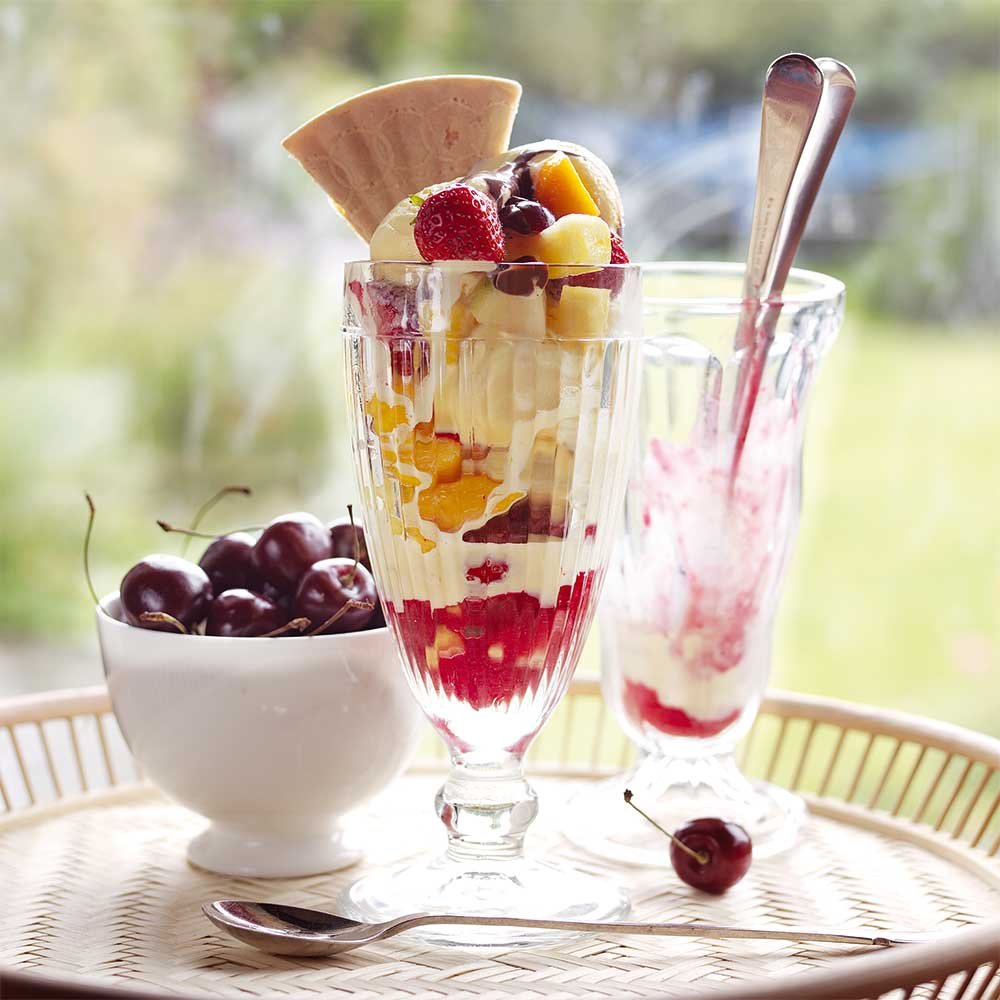 Ingredients
FOR THE MELBA SAUCE
Fresh raspberries 250g (9oz)
Caster sugar 75g (3oz)
Grand Marnier 1 tbsp, optional
.
FOR THE FRUIT SALAD
Fresh pineapple 175g (6oz) piece, prepared weight
Pears 2 small, peeled, cored and cut into small cubes
Black small seedless grapes 175g (6oz)
Green small seedless grapes 175g (6oz)
Strawberries 175g (6oz), hulled and quartered
Peaches 3 small, halved, stoned and skinned
Cherries 175g (6oz), pitted
Caster sugar 2–3 tbsp
Lemon 1, juice only
.
FOR THE CHOCOLATE SAUCE
Dark chocolate 150g (5oz)
Unsalted butter 25g (1oz)
.
FOR ASSEMBLING
Vanilla ice cream approximately 2 x 500ml tubs
Ice cream wafers 6
Strawberries 6
Maraschino or fresh cherries 6
Instructions
1
To make the Melba sauce, put the raspberries, sugar and Grand Marnier (if using) into a bowl and mix together. Cover and leave to stand for 30 minutes, then pass the mixture through a fine nylon or stainless steel sieve to make a purée. Chill until required.
2
To prepare the fruit salad, cut away all the skin and 'eyes' from the pineapple, then cut into quarters and cut away the hard and woody centre core. Cut the flesh into small cubes and put into a large bowl.
3
Add all the remaining prepared fruits, sugar and lemon juice to the pineapple and mix well. If not using immediately, refrigerate until required.
4
Just before you are ready to assemble the Knickerbocker glory, make the chocolate sauce. Put the chocolate, butter and 150ml (¼ pint) cold water into a small saucepan and stir together over a moderate heat until the chocolate is melted and smoothly blended with the butter and water. Allow the sauce to cool until cold, but do not allow it to set.
5
To assemble the Knickerbocker glory, spoon a little of the Melba sauce into the bottom of each tall sundae glass (contains about 350ml/12fl oz), then add a little fruit salad, top with a scoop of ice cream and then pour on a little of the chocolate sauce.
6
Insert a wafer into each glass and decorate with strawberries and maraschino cherries. Serve immediately.
Emily Davenport