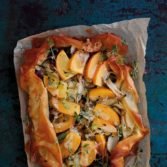 Fennel & Spanish Persimon Filo Star Tart
A perfect vegetarian recipe for the festive season from the
Dairy Diary
2020.
Ingredients
Olive oil 4 tbsp
Red onions 2, peeled and finely sliced
Fennel 2 bulbs, sliced into thin wedges
Chopped thyme 1 tbsp plus sprigs to garnish
Garlic 2 cloves, peeled and thinly sliced
Finely grated lemon zest 1 tsp
Spanish persimon® 1
Filo pastry 270g pack, thawed if frozen
Butter 75g (3oz), melted
Dijon mustard 2 tsp
Parmesan-style cheese shavings 25g (1oz)
Instructions
1
Heat half the oil in a large frying pan and fry onions until softened. Remove from pan and cool.
2
Add remaining oil to the pan and gently fry fennel until golden, about 6–7 minutes. Season, then add 5 tablespoons water, thyme, garlic and lemon zest. Cover and simmer for 8–10 minutes. Cool.
3
Discard the leafy top from Spanish persimon®, then slice the fruit neatly, cover and set aside.
4
Preheat oven to 220°C/200°fan/Gas 7. Butter a large baking sheet. Unroll the sheets of filo pastry. Brush each sheet lightly with melted butter and stack on the baking sheet, placing each sheet on top of the previous one at a different angle.
5
Spread mustard over centre of pastry. Scatter onions on top, then arrange fennel and persimon® slices in a star shape. Sprinkle with Parmesan. Scrunch the pastry around the edges. Bake for 20–25 minutes. Serve garnished with thyme sprigs.
Emily Davenport