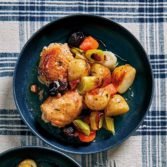 Cock-a-Leekie Tray Roast
A delicious Cock-a-Leekie Tray Roast recipe taken from the
Dairy Diary
2022.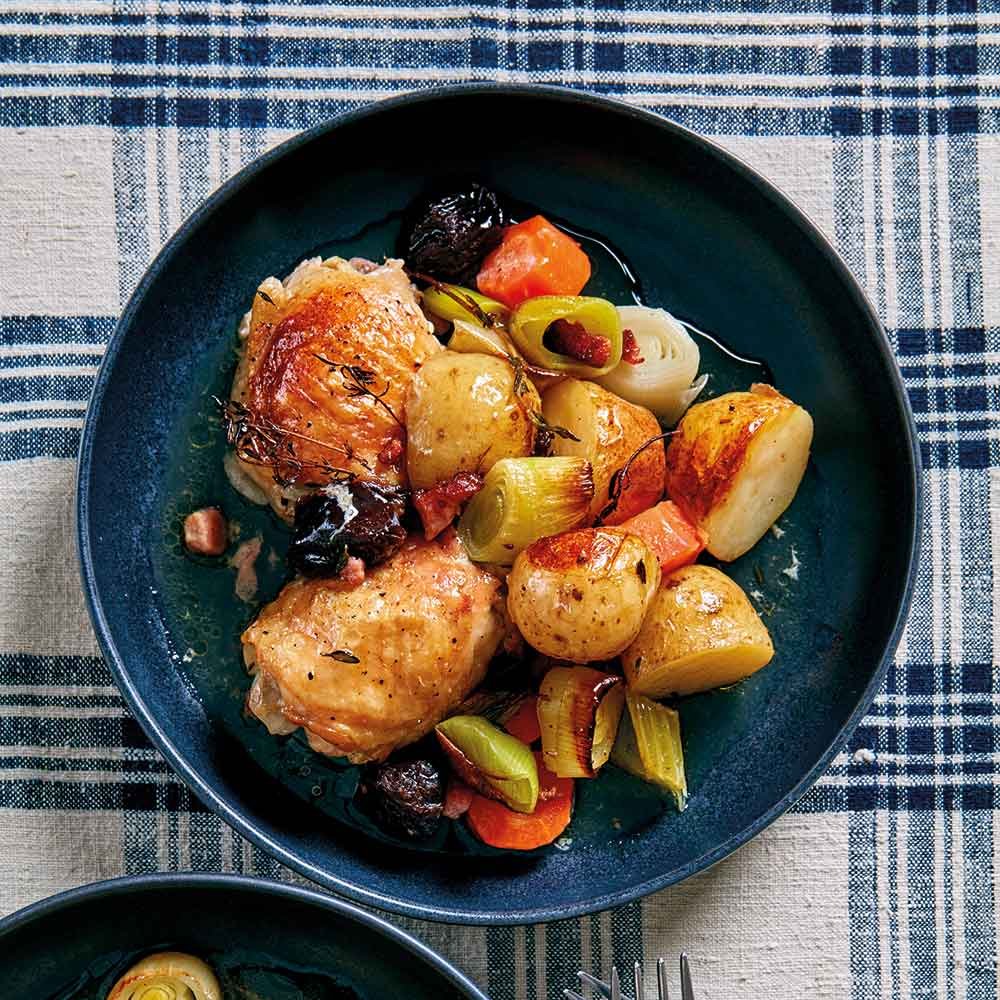 Ingredients
Baby new potatoes 500g (1lb 2oz), halved if large
Carrot 1, peeled and cut into thick slices
Celery 2 stalks, roughly chopped
Bay leaves 2
Fresh thyme good handful of sprigs
Chicken thighs 8, trimmed of excess skin and fat
Olive oil 2 tbsp
Smoked bacon lardons 110g (4oz)
Butter 25g (1oz)
Leeks 2, trimmed and cut into thick slices
Stoned prunes 12
Instructions
1
Preheat oven to 170°C/150°fan/Gas 3. Put potatoes and carrot in a large pan, just cover with water and bring to the boil for 5 minutes. Drain well, reserving cooking water. Tip vegetables into a large roasting tin, then add celery and herbs. Put chicken on top. Pour in 500ml (18fl oz) cooking water. Drizzle with oil, season well and roast for 40 minutes.
2
Cook lardons in a frying pan until browned but not too crispy. Spoon out onto a plate. Add butter and leeks to pan. Cover and cook over a low heat, stirring occasionally for about 8 minutes until tender.
3
After 40 minutes, add leeks to roasting tin along with bacon and prunes. Turn heat up to 190°C/170°fan/Gas 5. Cook for 20 minutes until chicken is tender and juices run clear.
4
Spoon chicken and vegetables onto warmed plates. Pour cooking juices into a pan and reduce over a high heat. Serve in a jug alongside.
Emily Davenport