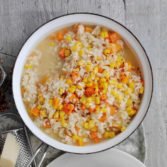 Butternut Squash & Sweetcorn Risotto
A silky-smooth Butternut Squash & Sweetcorn Risotto from the
Dairy Diary
2020.
Ingredients
Olive oil 1 tbsp
Onion 1 small, peeled and finely chopped
Garlic 2 cloves, peeled and crushed
Butternut squash 275g (10oz), peeled, deseeded and diced
Dried chilli flakes ¼ tsp (optional)
Arborio rice 275g (10oz)
Hot vegetable stock 1 litre (1¾ pints)
Canned sweetcorn ½ 198g can, drained
Parmesan-style cheese 20g (¾oz), grated
Instructions
1
Heat oil in a large pan and fry onion and garlic for about 5 minutes until softened.
2
Add butternut squash and chilli flakes, if using, then rice and stir for 1 minute.
3
Add hot stock, a ladleful at a time, and stir until absorbed before adding more. Continue adding stock in this way until rice is tender.
4
Stir in sweetcorn and cheese with final ladleful of stock. Season to taste and serve.
Emily Davenport