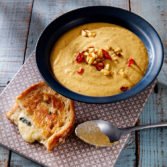 Roasted Sweetcorn & Chilli Soup with Gruyere & Sage Toasties
A delicious Roasted Sweetcorn & Chilli Soup taken from the
Dairy Diary
2023.
Ingredients
Corn on the cobs 4, husks removed
Olive oil 2 tbsp
Smoked paprika ½ tsp
Leek 1, sliced
Garlic 1 clove, crushed
Red chilli 1, finely chopped
Vegetable stock 800ml (1¼ pints)
Sourdough bread 8 slices
Gruyère cheese 75g (3oz), grated
Sage leaves 8, chopped or ½ tsp dried sage
Butter for spreading
Instructions
1
Preheat oven to 200°C/180°fan/Gas 6. Put corn in a roasting tin and drizzle with 1 tbsp oil. Sprinkle over paprika and seasoning. Roast for 25-30 minutes, turning halfway through.
2
Heat remaining oil in a pan and fry leek, garlic and chilli, reserving 1 tsp chilli, for 4-5 minutes until softened. Slice off roasted corn kernels, reserving 2 tbsp, and add to the pan with the stock. Bring to a simmer and cook for 3-4 minutes. Using a hand blender, whizz mixture to a smooth soup; season.
3
Prepare cheese and sage sandwiches, buttering the outside of each slice. Place in a heated frying pan for 2-3 minutes on each side or until golden.
4
To serve, ladle into bowls and sprinkle with reserved corn kernels and chilli. Serve toasties alongside.
Emily Davenport