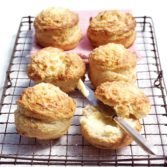 Lancashire Cheese Scones
These Lancashire Cheese Scones are delicious served for afternoon tea, split in half and buttered – especially if they have just come out of the oven and are still warm. For a special occasion, serve them with a herb butter or mild chutney. Taken from
Around Britain
Cookbook.
Ingredients
Self-raising flour 250g (9oz)
Baking powder 1 tsp
Mustard powder ½ tsp
Butter 50g (2oz)
Lancashire cheese 110g (4oz), grated
Egg 1
Milk 125ml (4fl oz), plus extra for glaze
Instructions
1
Preheat the oven to 220°C/425°F/Gas 7. Butter a baking sheet.
2
Sift the flour, baking powder and mustard into a bowl. Add the butter and then rub it in until the mixture resembles fine breadcrumbs. Stir in 75g (3oz) of the cheese. Lightly beat the egg into the milk and then pour into the flour mixture. Use a round-bladed knife to bind together the ingredients. Knead the mixture very lightly to give a smooth surface.
3
Roll out the dough to 2cm (½in thick) and cut out rounds using a 6.5cm (2½in) round cutter and place them on the buttered baking sheet. Brush the tops of the scones with a little milk and then sprinkle over the remaining grated cheese.
4
Bake the scones towards the top of the oven for 12–15 minutes until they have risen and are a light golden colour. Remove from the oven, transfer to a wire rack and leave to cool. Serve them warm or cold.
Emily Davenport