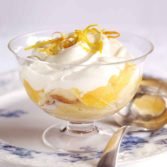 Boodle's Orange Fool
A deliciously citrus Boodle's Orange Fool recipe from
Around Britain
Cookbook.
Ingredients
Trifle sponges 6, cut in half lengthways
Oranges 3 large, grated rind and juice of 2 plus segments of 1
Lemon 1, grated rind and juice
Sugar 25g (1oz)
Double cream 450ml (16fl oz)
Orange and lemon rind curls to decorate, optional
Instructions
1
Place the sponge slices in a large serving bowl so that they cover the base and come halfway up the sides. Cover with the orange segments.
2
Mix the citrus rind and juice with the sugar, until it is completely dissolved.
3
Add the cream and whisk together until it is light and thickened.
4
Pour the mixture over the sponge and refrigerate overnight. Decorate with orange and lemon rind curls (if using) and serve.
Emily Davenport