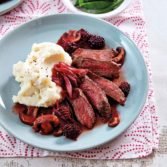 Venison with Mushroom & Blackberry Sauce
Enjoy this delicious Venison with Mushroom & Blackberry Sauce recipe from
A Zest For Life
Cookbook.
Ingredients
Salt and freshly ground black pepper
Venison steaks 4 x 125g (4½oz)
Olive oil 2 tbsp
Red onion 1 small, peeled and thinly sliced
Chestnut mushrooms 200g (7oz), sliced
Fresh thyme a few sprigs
Blackberries 150g (5oz)
Ruby port 3 tbsp
Blackberry or raspberry vinegar 3 tbsp
Bramble or redcurrant jelly 2 tbsp
Mash and green vegetables to serve (optional)
Instructions
1
Season the venison on both sides. Set aside.
2
Heat 1 tablespoon olive oil in a frying pan and gently fry the onion and mushrooms with the thyme for 10 minutes until softened.
3
Stir in the blackberries, port, vinegar and jelly, bring to the boil, cover and simmer gently for 5 minutes until softened. Turn off the heat. Keep covered.
4
Meanwhile, heat the remaining oil in another frying pan until hot. Add the venison steaks and cook over a medium heat for 4 minutes on each side – this will cook them to rare. Pour over the hot blackberry sauce, cover and cook over a low heat for 5 minutes.
5
Discard the thyme and serve with mashed potatoes and green vegetables, if you like.
Emily Davenport