Trick or Treat Brownie Graveyard Bars
A spooktacular Trick or Treat Brownie Graveyard Bars recipe from the
Dairy Diary
2020.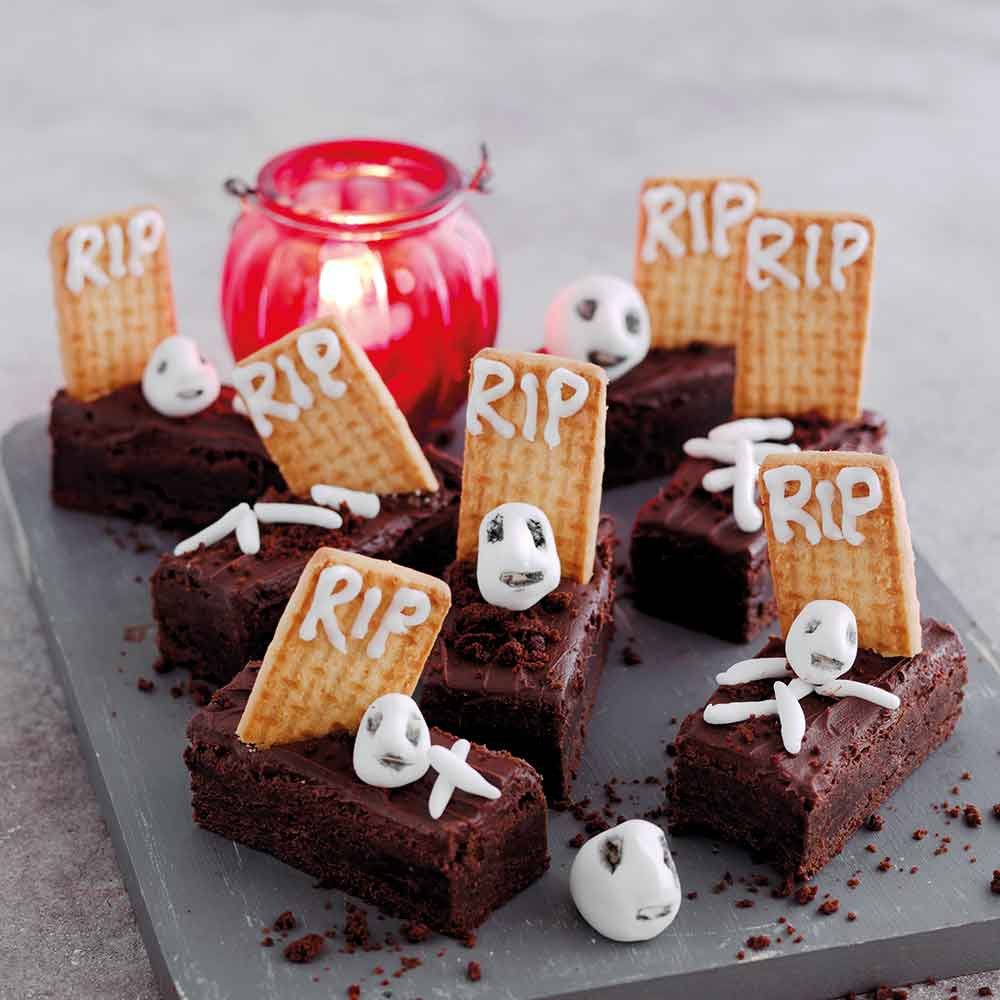 Ingredients
Dark chocolate (min 70% cocoa) 150g (5oz), broken into pieces
Butter 150g (5oz)
Eggs 2 large plus 1 yolk
Soft light brown sugar 225g (8oz)
Plain flour 100g (3½oz)
Chocolate fudge frosting 150g (5oz)
White piping icing to decorate
Shortcake biscuits 10
Ready to roll white icing 65g (2½oz)
Black food colouring to decorate
Instructions
1
Preheat oven to 170°C/150°fan/Gas 3. Grease and line an 18cm (7in) square cake tin with baking paper to come slightly above the top of the tin.
2
Melt chocolate and butter in a large heatproof bowl over a pan of barely simmering water. Remove from heat, stir and leave to cool for 10 minutes.
3
Beat in eggs and sugar, sift flour on top and mix until well blended. Transfer to the prepared tin, smooth the top and bake for 35–40 minutes until almost set but the mixture still has a slight wobble. Leave to cool completely in the tin.
4
Carefully remove cake from the tin. Place on a board and trim a thin layer from all round the edge. Crumble the trimmings. Spread the cake with fudge icing and sprinkle over the crumbs. Cut into 10 bars.
5
To decorate, pipe 'RIP' on each biscuit and push into the end of each bar. Use white icing to make skulls and bones and paint with food colouring.
Katy Hackforth