Smoky Fish Pie With Carrot Mash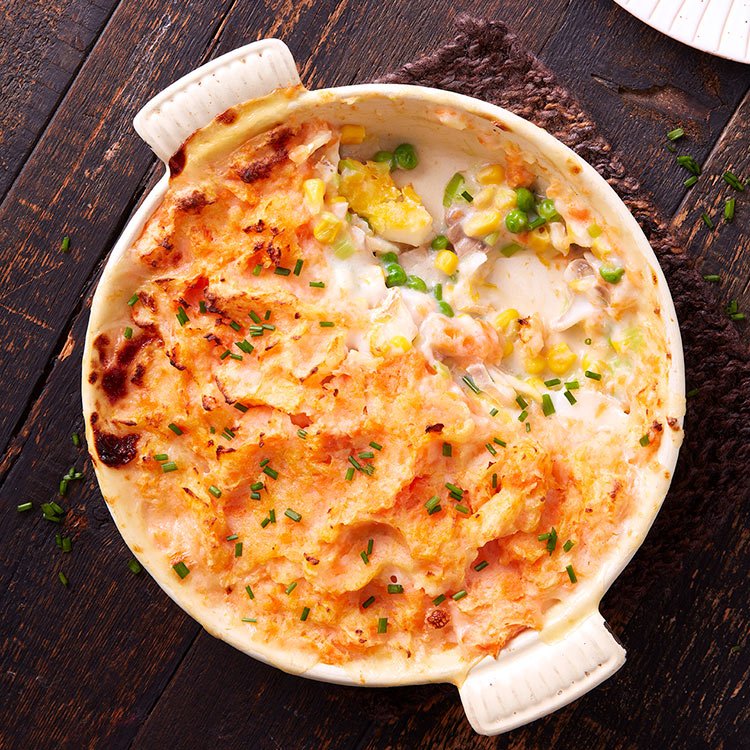 Ingredients
Carrots 225g (8oz), peeled and chopped
Salt and freshly ground black pepper
Potatoes 250g (9oz), peeled and chopped
Light spread 25g (1oz)
Ground nutmeg pinch
Skinless smoked haddock fillets 300g (11oz)
Button mushrooms 50g (2oz), sliced
Skimmed milk 300ml (½ pint)
Frozen peas 75g (3oz)
Frozen sweetcorn 75g (3oz)
Spring onions 4, trimmed and chopped
Cornflour 15g (½oz)
Olive oil spray
Snipped fresh chives 2 tsp
Tomato and chive salad to serve
Instructions
1
Put the carrots in a saucepan with a pinch of salt. Cover with water, bring to the boil and cook for 5 minutes. Add the potatoes, bring back to the boil and cook for 8–10 minutes until tender. Drain well, return to the pan, add the spread and mash until smooth. Season to taste with salt, pepper and nutmeg. Leave to cool.
2
Meanwhile, put the fish and mushrooms in a frying pan and pour over the milk. Bring to the boil, cover and simmer very gently for 5 minutes. Add the peas, sweetcorn and spring onions, bring back to a simmer, cover and cook gently for a further 5 minutes. Leave to cool.
3
Drain the fish and vegetables, reserving the cooking liquor. Put the fish and veg into a 1 litre (1¾ pint) baking dish, cover and chill until ready to cook.
4
In a saucepan, blend 3 tablespoons of the cooking liquor with the cornflour until smooth, then gradually stir in the remaining liquor. Season and heat gently, stirring, until the mixture comes to the boil, then cook for 1 minute until thickened. Remove from the heat and leave to cool; lay a piece of greaseproof paper on top of the sauce to prevent a skin forming.
5
When ready to cook, preheat the oven to 200°C/180°fan/Gas 6. Spoon the sauce over the fish and vegetables, cover with the mash and lightly spray with oil. Place the dish on a baking tray and bake for about 50 minutes until bubbling and lightly golden. Serve immediately, sprinkled with chives, accompanied with a fresh tomato and chive salad.
Emily Davenport