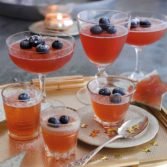 Sparkly Sloe Gin Jellies
A wonderfully sinful Sparkly Sloe Gin Jellies recipe from the
Dairy Diary.
Try it today!
Ingredients
Granulated sugar 50g (2oz)
Orange rind 2 broad strips
Gelatine 5 leaves
Sloe gin 175ml (6fl oz)
Sparkling white wine/Prosecco/Cava 350-375ml (12fl oz)
Blueberries and icing sugar to decorate (optional)
Instructions
1
Warm sugar in a pan with orange rind and 150ml (¼ pint) water. Stir until sugar dissolves. Bring to the boil. Take off heat and leave for 30 minutes to infuse.
2
Soften gelatine in a bowl of cold water for 5 minutes.
3
Warm orange syrup and remove orange rind. Squeeze water out of gelatine, add it to syrup and stir well until dissolved. Pour into a large jug, stir in sloe gin and leave until starting to set.
4
Gradually stir in wine and stir every so often until most of the froth has subsided and jelly is setting again. Pour into shot glasses (or cocktail glasses). Chill for 4 hours or overnight until set. Decorate with fresh blueberries and a dusting of icing sugar if you like.
Emily Davenport