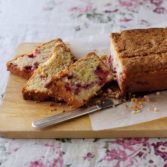 Raspberry & Macadamia Cake
Ingredients
Macadamia nuts 125g (4½oz)
Light brown sugar 50g (2oz)
Caster sugar 110g (4oz)
Unsalted butter 175g (6oz), softened
Eggs 2
Almond extract a few drops
Self-raising flour 150g (5oz), sifted
Raspberries 200g (7oz)
Milk 2 tbsp
Demerara sugar 1 heaped tbsp
Instructions
1
Preheat oven to 180°C/160°fan/Gas 4. Grease and line a 900g (2lb) loaf tin.
2
Whizz macadamia nuts in a food processor until finely ground.
3
Beat together brown sugar, caster sugar and butter until light and fluffy. Gradually beat in eggs and almond extract then fold in flour and nuts. When combined, gently fold in raspberries and milk.
4
Pour cake mixture into prepared tin and bake for 45 minutes (you may need to cover with foil). Remove from oven, scatter with demerara sugar and return to oven for 5 minutes or until a skewer comes out clean. Leave to cool in tin.
Emily Davenport