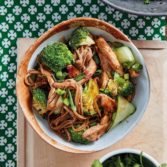 Pork & Broccoli Noodles with Japanese Flavours
A Pork & Broccoli Noodles with Japanese Flavours recipe taken from the
More Taste & Less Waste
Cookbook. Take one head of broccoli and cook two recipes to use all of the broccoli without waste.
Ingredients
Pork fillet or escalopes 250g (9oz), cut into thin strips
Garlic 1 clove, peeled and crushed
Root ginger 2cm (¾in) piece, peeled and finely grated
Teriyaki marinade 2 tbsp
Sesame oil 2 tsp
Broccoli ½ head (approx. 225g/8oz)
Soba noodles 100g (3½oz)
Cucumber ¼
Olive or rapeseed oil 1 tbsp
Spring onions 1 bunch, sliced
Chopped fresh coriander to serve
Instructions
1
Put the pork in a bowl and mix in the garlic, ginger, 1 tablespoon of the teriyaki marinade and 1 teaspoon of the sesame oil. Cover and chill for at least 30 minutes, or overnight.
2
Meanwhile, slice off the broccoli stem. Cut away 1cm (½in) from the woody end then thinly slice the rest. Break up the florets. Blanch all the broccoli in a saucepan of boiling water for 2 minutes. Drain well, reserving the water, and leave to cool.
3
Bring the cooking water back to the boil and cook the noodles according to the pack's instructions. Drain well and set aside. Use a vegetable peeler to slice the cucumber into ribbons.
4
When ready to cook, heat the oil in a wok or large frying pan, add the strips of pork and stir-fry briskly for 3–4 minutes until lightly browned. Add the broccoli and spring onions and continue to stir-fry for 3 minutes.
5
Carefully stir in the noodles, cucumber and remaining marinade and heat through, gently turning the noodles, for a further 2–3 minutes until hot. Remove from the heat, sprinkle with the remaining sesame oil, cover and stand for 10 minutes. Serve sprinkled with coriander.
Emily Davenport