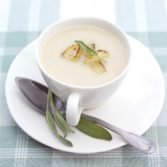 Parsnip and Apple Soup
A sweet and velvety Parsnip and Apple Soup recipe from
Around Britain
Cookbook.
Best British Regional Recipes: Eastern England
This creamy soup originates from East Anglia, where root crops thrive in the fertile soil. The sweet and velvety texture of parsnip combines wonderfully with a hint of tart cooking apple. Blended with cream, this is a really smooth starter.
Ingredients
Butter 25g (1oz)
Parsnips 680g (1½lb), peeled and sliced
Bramley cooking apple 1, cored, peeled and sliced
Vegetable stock 1.25 litres (2 pints)
Sage leaves 4, plus extra to garnish
Cloves 2
Single cream 150ml (5fl oz)
Salt and freshly ground black pepper
Dessert apple 1, cored, peeled, sliced and fried in 25g (1oz) butter, to garnish
Instructions
1
Melt the butter in a large saucepan and add the parsnips and apple. Cover and cook gently for 10 minutes, stirring occasionally.
2
Pour the stock into the saucepan and add the sage and cloves. Bring to the boil, cover and then simmer for 30 minutes, until the parsnip is softened.
3
Remove the sage leaves and cloves, then purée the parsnips in a blender or food processor.
4
Return to the saucepan and reheat gently with the cream. Season to taste. Serve hot, garnished with the sage leaves and apple slices and with granary bread.
Emily Davenport