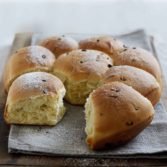 Onion Rolls
Ingredients
450g (1lb) strong plain flour
2 tsp salt
75g (3oz) butter
1 tsp caster sugar
300ml (½ pint) milk, lukewarm
2 tsp dried yeast
3 tbsp dried onions
Instructions
1
Sift flour and salt into a bowl and rub in 25g (1oz) butter.
2
Dissolve sugar in warm milk and sprinkle yeast on top. Leave to stand for 10 minutes in a warm place until frothy.
3
Stir into flour with dried onions. Knead for 10 minutes. Place dough in a clean bowl, cover with greased polythene, then leave to rise in a warm place until doubled in size.
4
Melt remaining butter. Pour into a 23cm (9in) round cake tin.
5
Divide dough into 8. Shape into rolls and turn in butter to coat. Arrange 7 around the edge of tin to form a ring. Place remaining roll in centre.
6
Cover and leave to rise until doubled in size.
7
Bake at 220°C/200°fan/Mark 7 for 20–25 minutes. Cover with foil after 15 minutes.
Emily Davenport