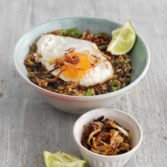 Nasi Goreng
This mouthwatering vegetarian Nasi Goreng recipe is taken from the
Quick After Work
Cookbook.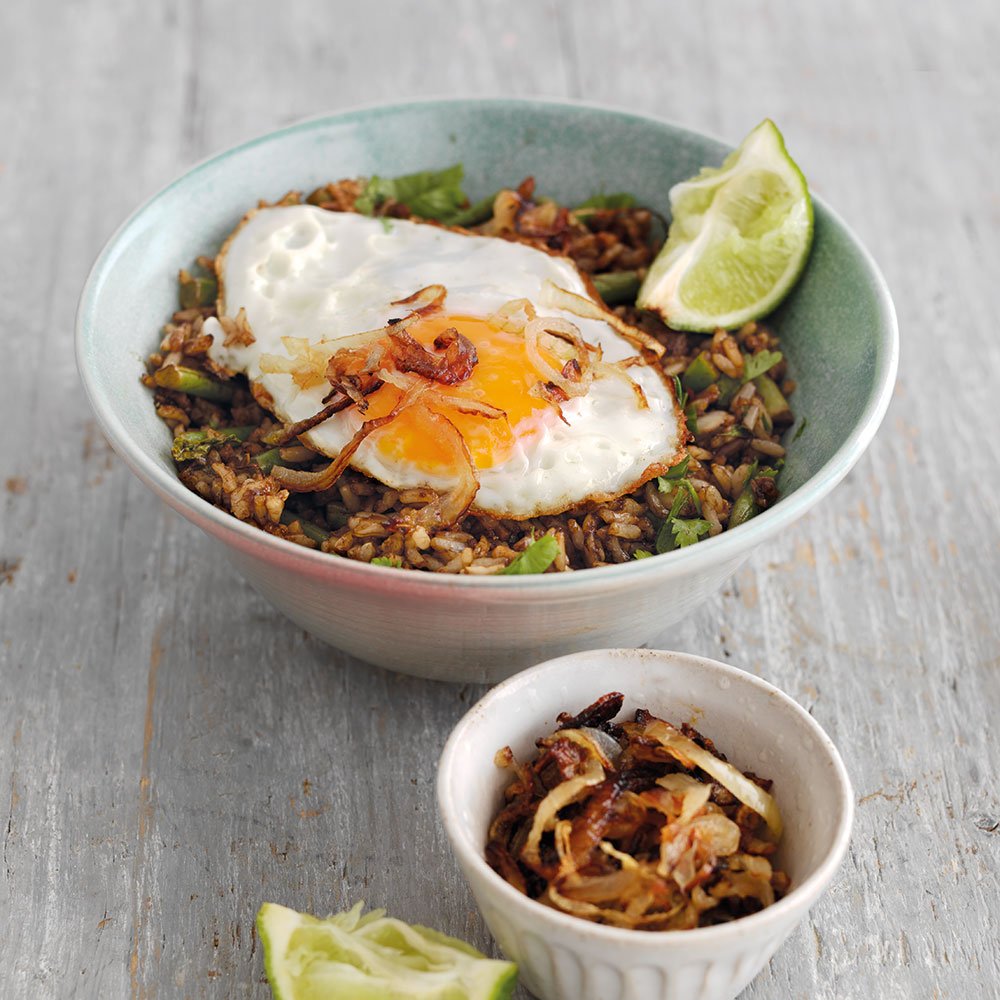 Ingredients
Vegetable oil 4 tsp
Garlic 1 clove, peeled and sliced
Root ginger 5cm (2in) piece, peeled and grated or thinly sliced
Thai chilli ½–1, deseeded and finely sliced
Tamarind paste 2 tsp
Ready cooked brown basmati rice 250g microwave pack
Fine green beans 50g (2oz), trimmed and cut into short lengths
Fresh coriander about 15g (½oz), stalks finely chopped, leaves roughly chopped
Soy sauce 1 tbsp
Freshly ground black pepper
Eggs 2
Ready-made crispy fried onions around 4 tbsp
Lime ½, cut into 2 wedges (optional)
Instructions
1
Heat 2 teaspoons of the oil in a wok, add the garlic, ginger, chilli and tamarind and fry for 2 minutes. Cook the rice in the microwave.
2
Add the beans and coriander stalks to the wok and stir-fry for 1 minute. Carefully stir in the hot rice and soy sauce. Season to taste with black pepper. Remove from the heat and add most of the coriander leaves.
3
Heat the rest of the oil in a frying pan over a high heat until very hot. Add the eggs and fry for a few minutes until set, with frilly edges.
4
Divide the rice between two warmed bowls. Place an egg on top and garnish with the remaining coriander leaves and some crispy fried onions. Serve with lime wedges, if you like.
Emily Davenport