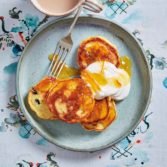 Marmalade Pancakes
Ingredients
Self-raising flour 50g (2oz)
Caster sugar 1 tbsp
Egg 1, separated
Semi-skimmed milk 3 tbsp
Orange 1 small, finely grated zest and juice
Dried cranberries 3 tbsp
Sunflower oil 2 tsp
Cornflour ½ tsp
Seville orange marmalade 1–1½ tbsp
Crème fraîche or Greek yogurt to serve
Instructions
1
Sift the flour into a bowl. Stir in the sugar and make a well in the centre. Gradually mix in the egg yolk and milk until well blended.
2
In a separate bowl, whisk the egg white until stiff then carefully fold into the batter along with the orange zest and cranberries.
3
Heat a large frying pan until hot, then brush lightly with oil. Use a tablespoon to spoon five separate pools of batter into the pan. Cook over a medium heat for 1–2 minutes until bubbles appear on the surface and the undersides are browned. Flip over and cook on the other side for 1–2 minutes until cooked through.
4
Transfer to a plate, cover and keep warm while you cook the remaining batter in the same way to make 10 small pancakes.
5
Put the cornflour in a small saucepan and blend in a little of the orange juice to make a paste. Stir in the remaining juice along with the marmalade. Heat gently until melted together, then bring to the boil, stirring, and cook for 1 minute until slightly thickened.
6
To serve, pile the pancakes onto warmed serving plates and pour over the marmalade sauce. Delicious with crème fraîche or Greek yogurt.
Emily Davenport