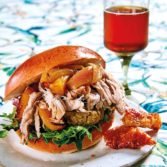 Hog Roast Buns
Perfect for a cool autumnal evening these Hog Roast Buns are taken from the
Dairy Diary
2022.
Ingredients
Skin-on boneless pork leg joint 1.5kg (3lb 5oz)
Olive oil 4 tbsp
Dried sage 2 tsp
Eating apples 3, cored and thickly sliced
Large onion 1, peeled and thickly sliced
Sage and onion stuffing mix 125g (4½oz)
Bread rolls 8 large
Salad leaves a large handful
Apple sauce to serve
Instructions
1
Heat oven to 240°C/220°fan/Gas 9. Remove any string from the pork. Mix 2 tablespoons oil with sage and seasoning and rub all over pork.
2
Put pork in a roasting tin and roast for 45 minutes to crisp up. Transfer pork to a plate. Reduce heat to 170°C/150°fan/Gas 3.
3
Put apples and onion in tin and mix into pan juices along with 4 tablespoons of water. Sit pork on top and roast for 3 hours, basting occasionally and topping up with water to prevent apples drying out, until pork is tender. Cover joint with foil if it browns too much. Lightly cover and rest for 30 minutes.
4
Meanwhile, make stuffing according to the packet instructions and leave to cool. Divide into 8 and flatten to make 1cm (½in) thick patties. Heat remaining oil in a frying pan and fry stuffing for 3-4 minutes each side until lightly golden. Drain and keep warm.
5
To serve, strip away skin and fat, then 'pull' meat into shreds. Chop apples and onions. Fill buns with salad, top with a stuffing patty, pork and the apple mixture. Cut up crispy skin and serve alongside, if you like. Accompany with apple sauce.
Emily Davenport