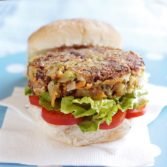 Hazelnut Veggie Burgers
This delicious Hazelnut Veggie Burgers recipe is taken from the beautiful
Around Britain
Cookbook.
Best British Regional Recipes: South East
Hazelnuts, also called filberts, are grown in Kent. The nuts have a creamy, earthy flavour, and are popular in chocolate recipes. Here they give a real nuttiness to these burgers.
Ingredients
Olive oil 5 tbsp
Onion 1, peeled and finely chopped
Celery 1 stick, trimmed and finely chopped
Carrot 1, peeled and grated
Whole blanched hazelnuts 100g packet
Mixed pulses 420g can
Chopped parsley 3 tbsp
Salt and freshly ground black pepper
Wholemeal flour 2 tbsp
Instructions
1
Heat 1 tbsp oil in a frying pan and gently fry the vegetables, stirring, for 5 minutes until softened but not browned. Set aside to cool.
2
Meanwhile, finely grind half the hazelnuts in a blender or spice grinder, and chop the remainder. Heat a frying pan for about 2 minutes until very hot and then add the ground and chopped nuts. Cook, stirring constantly, for about 2 minutes, until the nuts turn light brown. Transfer to a heatproof plate and allow to cool.
3
Drain and rinse the pulses, and mash well using a potato masher or large fork, or purée in a blender or food processor for a few seconds to make a thick paste.
4
When the vegetables and nuts are cool, place in a bowl and add the mashed pulses, parsley and plenty of seasoning. Mix well, using the pulses to hold the mixture together. Cover and chill for 1 hour.
5
Divide the mixture into four equal portions and form each into a 10cm (4in) burger – if the mixture sticks to your hands, it will help if you wet them with cold water. Put the flour on a plate and season. Lightly coat each burger on both sides with the flour.
6
Heat the remaining oil in a large frying pan and gently fry the burgers for 10–12 minutes, carefully turning using a fish slice, until lightly golden on both sides. Drain well. The burgers are ideal served in a fresh roll with crispy salad, or as a main meal with accompanying vegetables.
Emily Davenport