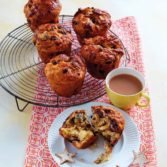 Chocolate Orange Panettone Buns
Try these Chocolate Orange Panettone Buns from the
Dairy Diary
2021. Honestly, they are absolutely gorgeous; a really rewarding bake.
Ingredients
Milk 2 tbsp
Fast action dried yeast 7g sachet
Caster sugar 50g (2oz)
Unsalted butter 125g (4½oz), softened
Eggs 2 medium
Strong white bread flour 250g (9oz)
Dark chocolate 75g (3oz), chopped
Mixed dried fruit with candied peel 75g (3oz)
Orange extract 1 tsp
Instructions
1
Place milk in a small bowl and warm in microwave for 15 seconds. Mix in yeast and 1 teaspoon sugar.
2
Put remaining sugar in a bowl with butter and cream together until pale and fluffy. Beat in eggs, one at a time, adding a little flour to prevent splitting if needed.
3
Add yeast mixture, a pinch salt and flour and mix with a knife for 10 minutes. Cover with oiled clingfilm and leave in a warm place for 2 hours or until doubled in size.
4
Add chocolate, fruit and orange extract and knead for 5 minutes.
5
Divide into 6 and place in a greased deep six-hole muffin tin. Re-cover with clingfilm and leave in a warm place for 1 hour.
6
Preheat oven to 180°C/160°fan/Gas 4. Bake for 20 minutes until risen and golden-brown. Cool on a wire rack.
Emily Davenport