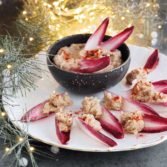 Chestnut & Parsnip Dip
A fabulous festive Chestnut & Parsnip Dip recipe from the Dairy Diary.
Ingredients
Parsnips 300g (10oz), peeled and cut into small chunks
Olive oil 2 tbsp
Celeriac 300g (10oz), peeled and cut into small chunks
Cooked chestnuts 180g pack
Garlic 1 clove, peeled and crushed
Vegetable stock 200-250ml (7-9fl oz)
Bay leaves 2
Celery salt ½ tsp
Red chicory 4 heads, leaves separated
Smoked paprika (optional)
Instructions
2
Add parsnips to oil in a large lidded pan. Fry over a medium heat for 3 minutes. Add celeriac, chestnuts and garlic and cook for 3 minutes, stirring occasionally.
3
Pour in just enough stock to cover vegetables and add bay leaves. Cover and cook on a low heat for about 25 minutes until all vegetables are tender.
4
Remove bay leaves and use a hand-held stick blender to purée. Season with celery salt and black pepper.
5
Arrange chicory leaves on a serving dish, spoon a teaspoon of dip onto each and dust with paprika, if you like.
Dairy Diary team