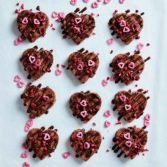 Brownie Hearts
These beautiful Brownie Hearts are perfect as a Valentine's Day gift. A
Dairy Diary
2021 recipe.
Ingredients
Butter 150g (5oz) at room temperature
Light muscovado sugar 75g (3oz)
Vanilla extract 1 tsp
Plain flour 110g (4oz)
Cocoa powder 25g (1oz)
Ground almonds 75g (3oz)
Egg 1 large, yolk only
Dark chocolate 25g (1oz), melted
Freeze-dried crushed raspberries 2 tsp
Edible heart sprinkles 2 tsp
Icing sugar for dusting
Instructions
1
Preheat oven to 170°C/150°fan/Gas 3 and line a baking sheet with baking paper. In a bowl, cream butter, sugar and vanilla with an electric whisk. Sift over flour and cocoa, stir in ground almonds and mix to crumbs. Stir in yolk and mix to a soft dough. Spread out to a 20cm (8in) square on lined baking sheet.
2
Bake for 20 minutes. Cool on the baking paper on a wire rack. Slide paper onto a board and cut out heart shapes using a 5cm (2in) cutter. Transfer to a wire rack.
3
Spoon chocolate into a paper piping bag, pipe zig-zags over hearts or ice a stripe of chocolate across each heart. Sprinkle with crushed raspberries and heart sprinkles; leave to set. Dust with icing sugar to serve. Keeps for 2 days in an airtight container.
Emily Davenport